Community Outreach
We can't visit your site in person yet, but we can still bring you up-close experiences with our experts and animals via live-interactive video.
Discover the Desert Online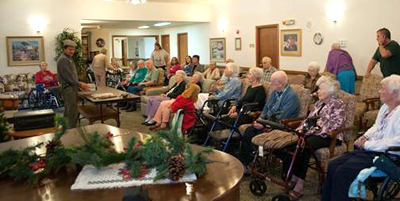 When the Desert Ark Community Outreach Van "docks" at your site, be ready to make new discoveries about our unique Sonoran Desert. Desert Ark Community Programs feature live Sonoran Desert animals and may include interactive lectures, slide shows or activities. We enjoy working with all ages and types of groups. Our skilled education specialists can tailor our programs to the needs of your audience.
Live animals may include reptiles, birds, mammals and insects, although the particular animals we bring vary by program.
Reservation requests require 30-day minimum advance notice. Availability hours are 9:00 a.m to 5:00 p.m.
Browse the sections below to find the program that is right for your group:
40-50 minute program. Live animals help to illustrate a variety of natural history concepts and topics. Some programs involve hands-on activities with artifacts and/or the opportunity to touch animals.
Meet our animals up close at an event, reception, or festival. Hands-on exploration of artifacts is interspersed with live animal interpretations. (Depends on suitability of environment for live animals).
The Desert Museum can provide expert speakers on a wide variety of natural history topics. Presentations are typically 40-50 minutes long, and include a Powerpoint presentation.

Private and Corporate Special Events:

For customized opportunities for up-close and personal interaction with Sonoran Desert animals, call or email the Conservation Education and Science Department at education@desertmuseum.org, 520-883-3021. Custom program costs start at $1000. Travel fees may apply.
Other Outreach Information