Shop & Dine

SHOP
Looking to take a piece of the desert home with you? This is the place. Find cactus (yes, really!), toys, books, housewares, apparel, pottery, jewelry, and more! Forget your desert essentials? No worries! The gift store has a variety of sun hats, sunglasses, and reusable water bottles. Best of all, a portion of your purchase goes back to the Desert Museum!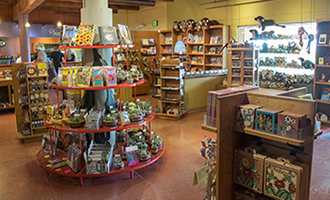 THE MOUNTAIN HOUSE GIFT SHOP
7:30 a.m. - 2:00 p.m.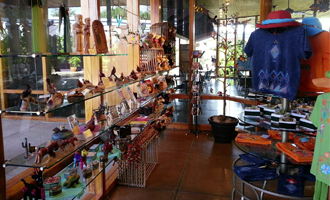 THE IRONWOOD GIFT SHOP
8:30 a.m. - 2:00 p.m.

DINE
Are you as hungry as a black bear? Enjoy relaxed dining in Ocotillo Café or chow down at Ironwood Terraces. Craving caffeine or sweets? We've got you covered. Enjoy coffee, ice cream, and various snacks at Phoebe's Coffee Bar and The Cottonwood.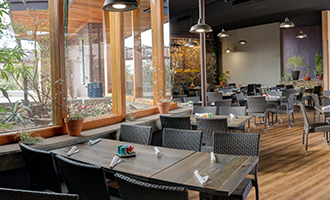 OCOTILLO CAFÉ
A casual dining experience that focuses on locally sourced ingredients to create regional southwest cuisine. Reservations not required, but suggested for parties of 8 or more. Please call 520-883-1380 Ext. 7212 to make your reservation.
Closed for the season beginning April 24, 2022.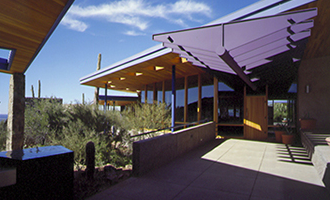 IRONWOOD TERRACES
A casual food court that includes kid's meals, as well as healthy choices and vegetarian options.
July 1 - September 30:
11:00 a.m. - 1:30 p.m.
October 1 - June 30:
11:00 a.m. - 3:00 p.m.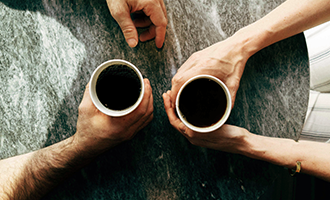 PHOEBE'S COFFEE BAR
Start or finish your visit with a trip to Phoebe's Coffee Bar. You can enjoy Caribou coffee, pastries, snacks, ice cream, popsicles, sandwiches, and more.
Year-round
Open 30 minutes after Museum opening until close.
BEER, WINE & COCKTAILS
Beer is available for purchase at Phoebe's Coffee Bar, The Ocotillo Café, and Ironwood Terraces. You are allowed to wander the grounds with your beer but please recycle! You can also sip on specialty cocktails and wine at Ocotillo Café.
PICNICS
There is a small public picnic area just outside the Museum's entrance. Outside food is not allowed on Museum grounds, except to accommodate food allergies or religious restrictions.