Volunteer Opportunities at ASDM
Thank you for your interest in volunteering with the Arizona-Sonora Desert Museum!
Share your passion for the Sonoran Desert by facilitating educational experiences for future conservationists! For more information, select 'School Group Assistant, Education' in the list below.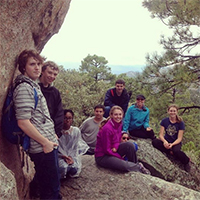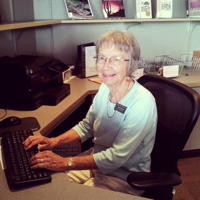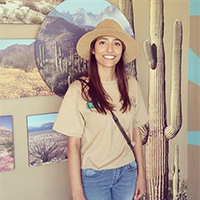 Volunteer Opportunities are available in the following areas:
Volunteer Description:

Are you looking for a short-term service project, ideal for groups of any size? Consider signing-up for a Buffelgrass pull. These volunteers enjoy a guided hike into the mountains that surround the Desert Museum while learning about the invasive plant species, Buffelgrass. Removal efforts focus around wildfire prevention.

Benefits:

This is a great opportunity to enjoy a scenic hike in the early morning or late afternoon while directly contributing to desert conservation.

Requirements:

Applicants must be able to hike off trails and handle steep/rocky terrain.
Applicants must also be willing to perform manual labor in hot and cold weather conditions.

Current Openings:

Buffelgrass pulls typically occur during a 3-4 hour period in the early morning. Weekly pulls will be scheduled based on volunteer sign-up.
Volunteer Description:

Works with a group of other volunteers digging out buffelgrass in the mountains near the Desert Museum. Primary Specific Tasks: 1. Hikes into the mountains near the museum 2. Digs out buffelgrass and puts rocks on top of the piles

Benefits:

Benefits to the volunteer: Volunteers get to hike out into the Tucson Mountains and enjoy the desert outdoors and the beautiful scenery. Volunteers can feel good that they are contributing to a very worthy cause — the eradication of a serious invasive species. In this volunteer job they will learn about the ecological problems of non-native species.

Requirements:

Physical requirements: Must be able to hike cross-country, off trail, over very steep and rocky terrain. Must be able to do manual labor in hot or cold weather on steep slopes with precarious footing. Skills/knowledge required: None Background/Experience desired: Experienced hiker

Current Openings:

Varies, usually 1 morning/week during mild weather season. Infrequent during hot season. Hours: Varies, usually 7am - 11am. Season: Fall, Winter, & Spring
Volunteer Description:

Summary: The School Group Assistant act as a liaison to schools and youth group visiting the Museum by achieving outstanding customer service and providing details specific to their visit.

Essential Tasks (including, but not limited to):

Greets arriving schools/youth groups
May need to collect paperwork from school/youth group leader
Directs school/youth group leader to admission window
Provide adult chaperones with wristbands (if applicable), tracking guides (if applicable), and maps of the Museum
Instructs group on entering and existing the Museum
Go over rules and behavior expectations
Coordinating and facilitating lunch times and the use of the picnic ramada
Provide information on using picnic ramada and how to reenter Museum if necessary
Help maintain ramada area during its use
Provide instructions to Theater and/or Stingray if applicable
Checking in on school/youth groups throughout their visit and provide assistance if needed
Report any emergencies or behavior issues

Benefits:

Benefits: Membership, discounts, and a fun way to share your passion for the Sonoran Desert by facilitating educational experiences for future conservationists!

Requirements:

Qualifications: Applicants should have the ability to navigate the Museum grounds in all types of weather conditions. Must be able to communicate effectively to provide instructions by using guest friendly language. Must be able to provide exceptional customer service to guests and staff members. Preference will be given to applicants who are enthusiastic to volunteer with youth of all ages.

Current Openings:

Days: Monday-Friday Hours: 8:00am-2:00pm Duration of Service: August – May, mirrors local school calendar.
Volunteer Description:

Volunteers in this position are assigned but not limited to support of the Stingray Touch Exhibit. Volunteers are support for the animal Keeper staff. Additionally, volunteers in this role will engage and guide guests with instructions, guidelines, interpretation and animal contact. This includes the guest feeding experience and other husbandry-related tasks and activities. Volunteers may also help behind the scenes with the HIIZ (Herpetology, Ichthyology & Invertebrate Zoology) Department.

Primary Specific Tasks:

Assist HIIZ Keeper staff
Assist with basic stingray husbandry (i.e., logging observations, etc.)
Interact with Museum visitors
Help facilitate guest entry and guest services while at the stingray exhibit
Assure the safety of both the stingrays and guests at all times
Stingray pool-related tasks
Assist with enrichment activities
Other tasks may be assigned

Benefits:

This is a unique opportunity to volunteer with stingrays and other HIIZ collection animals at an AZA accredited, world-class institution. Volunteers receive the opportunity to expand upon their public speaking skills while gaining hands-on experience. Great for resume building and career building experience. Active status volunteers receive numerous benefits including complimentary membership and discounts for the duration of their service.

Requirements:

Applicants must be at least 18 years of age. Volunteers must have the ability to bend, kneel and balance while doing a variety of tasks; they must also be comfortable lifting up to 25 lbs. Applicants should be comfortable helping outdoors throughout the year and have the ability to work cooperatively with others in a complex and busy social environment. Having a positive attitude is very important, and must be willing to follow directions. Preference will be shown to applicants who can demonstrate good general communication skills. For the safety of the animals, applicants must be able to think quickly in demanding situations while adhering to HIIZ department protocol. Applicants should have a clear understanding of the boundaries related to animal interactions.

Current Openings:

Monday: 8:45am - 12:45pm; Thursday or Friday: 12:15pm - 4:15pm; Friday 8:45am - 12:45pm
If a position aligns with your interests and availability, please fill out the following form:
Volunteer Application Form
If you're having trouble accessing the online application, please print this application form (PDF) and mail it to Volunteer & Internship Programs Coordinator (Catherine Kastens) at: 2021 N. Kinney Road, Tucson, AZ 85743.
If you have any questions or need additional information, please don't hesitate to call the Volunteer & Internship Programs Coordinator (Catherine Kastens) at: 520-883-3082 or at ckastens@desertmuseum.org.