Volunteer Opportunities at ASDM
Thank you for your interest in volunteering with the Arizona-Sonora Desert Museum!
This is a great opportunity to meet Guests from around the world, while sharing your passion for the Sonoran Desert region! For more information, select 'Guest Services Greeter ' in the list below.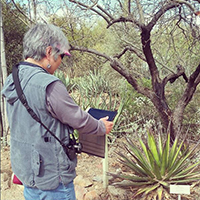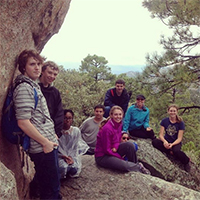 Volunteer Opportunities are available in the following areas:
Volunteer Description:

Welcomes guests into the art gallery during art exhibitions, monitoring the gallery space for the safety of the artwork, and visitors, acting as a friendly and knowledgeable representative of the museum. Primary Specific Tasks: 1. Promotes the safety of the artwork in the gallery and ensures that visitors are not touching/damaging the artwork. 2. Answers visitor questions about the exhibitions and general museum information. 3. Answers the phone in the gallery 4. Assists in the sales of artwork and gallery shop items by filling out the Gallery Sales Invoice form and processing credit card payment

Benefits:

Volunteers have the opportunity to work in a pleasant and comfortable indoor environment. In addition, they are invited as guests to opening receptions and sometimes get to meet the artists.

Requirements:

Commitment: This is an ongoing position. The Art Institute prefers those who can commit to three hours a week 52 weeks a year or at least two months at a time which is the average duration of each exhibition. Number of Volunteers in this position: 14 regular volunteers with some call-ins Skills/knowledge required: Must be friendly, enjoy talking with visitors, able to work well with people, and be able to tell people what they may not do in a polite, friendly way. Volunteers must take the time to read the volunteer handbook to familiarize themselves with elements of each exhibit. Background/Experience desired: An interest in art, arts education, art history, natural history Other requirements: Must have at-home email capability as all communications are completed via email.

Current Openings:

Shifts every day: 10am to 1pm and 1 to 4pm; Help needed afternoons and weekends
Volunteer Description:

Volunteers in this position are stationed around the front patio and they support Guest Services staff by approaching museum Guests and welcoming them in a friendly manner. Volunteers in this position are also the Museum's first impression to Guests and they are essential when it comes to creating a welcoming and informative museum experience. 1. Approaching Guests (of all group sizes) and welcoming them to the Museum 2. Directing Guests to the appropriate entry lines to keep things moving 3. Suggesting that Guests become museum members 4. Distributing maps and providing information on daily programing/upcoming events 5. Assisting GS staff by retrieving wheelchairs 6. Assisting GS staff by retrieving electric scooters and demonstrating their use to Guests 7. Helping to answer or solve a variety of visitor questions or concerns 8. Monitoring the exit gates and thanking Guests as they depart 9. Collecting Lost & Found items and giving them to GS staff Duration: 6-12 months # of volunteers in this role: 42

Benefits:

This is a great opportunity to meet Guests from around the world, while sharing your passion for the Sonoran Desert region.

Requirements:

Physical requirements: Applicants must be able to maneuver around the front patio areas and be comfortable working in winter cold and summer heat. Skills/knowledge required: Applicants must demonstrate excellent customer service skills and be comfortable interacting with a diverse population of Guests (i.e.: age, race, gender, etc.). Other Requirements: Volunteers in this position must be available to attend a one hour training session for each year they volunteer.

Current Openings:

Sunday - Saturday; Shifts: 8:30am-11:30pm, 11:30-2:30pm CSN 5:00pm-8:00pm
Volunteer Description:

Summary: The School Group Assistant act as a liaison to schools and youth group visiting the Museum by achieving outstanding customer service and providing details specific to their visit. Essential Tasks (including, but not limited to): • Greets arriving schools/youth groups o May need to collect paperwork from school/youth group leader o Directs school/youth group leader to admission window o Provide adult chaperones with wristbands (if applicable), tracking guides (if applicable), and maps of the Museum. • Instructs group on entering and existing the Museum. • Go over rules and behavior expectations • Coordinating and facilitating lunch times and the use of the picnic ramada o Provide information on using picnic ramada and how to reenter Museum if necessary. o Help maintain ramada area during its use • Provide instructions to Theater and or Stingray if applicable • Checking in on school/youth groups throughout their visit and provide assistance if needed • Report any emergencies or behavior issues

Benefits:

Benefits: Membership, discounts, and a fun way to share your passion for the Sonoran Desert by facilitating educational experiences for future conservationists!

Requirements:

Qualifications: Applicants should have the ability to navigate the Museum grounds in all types of weather conditions. Must be able to communicate effectively to provide instructions by using guest friendly language. Must be able to provide exceptional customer service to guests and staff members. Preference will be given to applicants who are enthusiastic to volunteer with youth of all ages.

Current Openings:

Days: Monday-Friday Hours: 8:00am-2:00pm Duration of Service: August – May, mirrors local school calendar.
If a position aligns with your interests and availability, please fill out the following form:
Volunteer Application Form
If you're having trouble accessing the online application, please print this application form (PDF) and mail it to Volunteer & Internship Programs Coordinator (Catherine Kastens) at: 2021 N. Kinney Road, Tucson, AZ 85743.
If you have any questions or need additional information, please don't hesitate to call the Volunteer & Internship Programs Coordinator (Catherine Kastens) at: 520-883-3082 or at ckastens@desertmuseum.org.