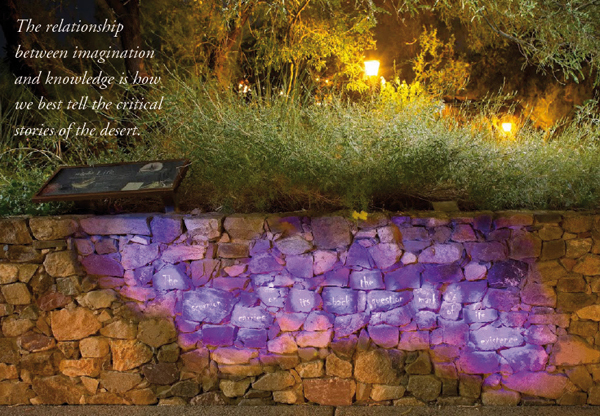 Blacklight Scorpion Poem by Alberto Ríos, photo by Rhonda Spencer
Woven Words is an exciting new collaboration that pairs two Tucson cultural institutions: the Arizona-Sonora Desert Museum and the University of Arizona Poetry Center. The project will feature 30 poetry installations throughout the Museum grounds, each underscoring the profound relationship between knowledge, the imagination, and an ethos of conservation.
A central idea behind this collaboration is that if you look closer, you'll see more. In pairing poetry with exhibit spaces we invite Desert Museum audiences to linger at an exhibit or vista, to mull an idea, and to think about what they are reading in the context of what they are seeing. We hope for two parallel outcomes: that the poetry will deepen the experience of an exhibit and that the exhibit will deepen a reader's experience of the featured poems. We are excited that this collaboration with the Poetry Center will strengthen the Museum's existing commitment to the arts through the many courses and exhibits the Museum already features, and we are excited that this installation will offer many new educational and visiting opportunities for students, members, and visitors.
---