Pollinator Conservation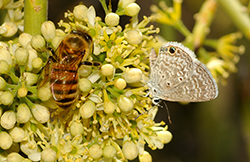 Honey bee and butterfly dining together
Photo by Glenn Seplak
In recent decades, populations of important pollinators have been declining throughout much of North America. Beekeepers in the U.S. have been suffering from unusually high rates of colony loss of the domesticated honey bee (Apis mellifera). The abundance of several bumblebee species in the western U.S. has declined dramatically, with at least one species now believed to be extinct. And both the eastern and western populations of the monarch butterfly have declined precipitously, with the eastern population reaching a new record low in recent years.
With these continued declines, pollinator conservation has become a national priority. Recently the Desert Museum and the Community Food Bank of Southern Arizona (CFBSA) began working together with the overarching goal of promoting healthy pollinator populations throughout the City of Tucson. This new partnership speaks to the fact that biodiversity and conservation efforts are, in fact, closely linked to food production, and in no case is that connection clearer than when it comes to pollinators.
Watch a short video about this collaborative effort to promote biodiversity and support urban agriculture in Tucson, Arizona.
In 2016, with funding from the Commission for Environmental Cooperation, we launched an effort to create pollinator gardens at dozens of sites across the city. These garden sites not only provide high quality habitat for pollinators but also benefit urban gardeners and farmers, who rely on pollinators to obtain high yields of fruits and vegetables. But perhaps most importantly, these gardens have become places where city residents connect with biodiversity, where they can see and feel how nature benefits them.
Entrance to Las Milpitas
Photo by Lois Settlemeyer
In addition to creating high quality pollinator habitat throughout the city, we initiated a long-term study of wild bee populations in Las Milpitas de Cottonwood, a six-acre farm in the heart of Tucson. Many wild bees are excellent pollinators of both wild and cultivated plants, and with continued declines in honey bee populations, supporting wild bee populations has never been more important.
This work has expanded in cooperation with scientists, teachers, students and community scientists who are all part of the Tucson Bee Collaborative. The Tucson Bee Collaborative is a partnership of the University of Arizona, Pima Community College, the Desert Museum and local high schools who are working together to document the diversity of native bees in our region.
The Sonoran Desert is home to a tremendous diversity of bees, boasting more species of bees than just about anywhere else in the world, yet we know very little about the status of wild bee populations in the desert. Growing evidence suggests that the same factors driving honey bee declines (poor nutrition, pathogens, and pesticides) may be impacting wild bees throughout North America. On the bright side, a substantial body of research has shown that wild bees can thrive in urban environments if their modest food and nesting resource needs are met. In fact, many of these needs are already being met through commonplace landscaping practices. For example, homeowners that use native plants in their landscaping, simply because native plants are easy to care for, are also, perhaps inadvertently, providing food for wild bees and a wide range of other wildlife!
So the good news is that there's a lot you can do to help out our Sonoran Desert bees without spending a fortune to makeover your yard. Below we outline some simple steps that you can take to make your yard more bee-friendly.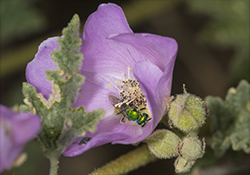 Wild bee visiting our native globemallow,
sometimes considered a weed
Photo by Glenn Seplak
Bee Friendly Landscaping Practices
Plant some native plants! The relationships between bees and flowers have evolved over millions of years. Therefore, our Sonoran Desert bees are generally better able to utilize Sonoran Desert plants than plants from other parts of the world. Here in the Sonoran Desert we have no shortage of attractive trees, shrubs, cacti, and succulents with which to landscape your yard. The Desert Museum's plant list is a good starting point for selecting plants that will support a wide variety of pollinators.

Plant flowers in clumps. Most bees will visit only one, or at most, a few types of flowers on each foraging trip. They learn how to deal with a certain type of flower, and then tend to stick with it, which allows them to be efficient foragers. Therefore, most bees will benefit from a fair-sized patch of a single flower species. Planting a flowering tree (eg. palo verde tree, mesquite tree) native to the region provides the same benefit.

Plant a diversity of flowers to attract a diversity of bees. Since most bees are specialists to some degree, a greater diversity of plants will benefit a greater diversity of bees. Some websites may suggest that there is some minimum number of plant species required to create a pollinator garden, but in truth, even a single patch of flowers will almost certainly benefit some bees.

Provide nesting habitat! This is one of the simplest things that anyone can do to help bees. Since most of our wild bees nest in the soil, they need some bare ground into which they can tunnel to build a nest. This means leaving a portion of your yard free of gravel and mulch, and preferably an area of the yard that receives a lot of sun. These narrow tunnels will be difficult to spot, their diameter no bigger than an eraser on the end of a pencil, but they have benefit beyond bees, increasing soil moisture and aeration.

Ground-nesting bee exiting her nest. Note the small diameter of the nest entrance by comparison to the pinky finger.

Photos by Anna Howell

Provide a source of mud, which is an important material for nest construction for some bees. Water is not necessary for most Sonoran Desert bees, but providing water (e.g. a bird bath or small fountain) can attract a variety of pollinators, including birds and butterflies, as well as other beneficial insects. Water also tends to attract large numbers of honey bees.

Avoid pesticides. Fortunately, native plants rarely suffer much from insect damage. On the other hand, vegetable gardens can attract some hungry insects eager for a meal. First, take a step back and assess the size of your problem. A dozen or so hungry caterpillars might be removed just as easily by hand as with the use of pesticides. Aphids and other soft bodied bugs are easily treated with soapy water. If you do decide to use pesticides, never apply pesticides when plants are blooming. When shopping for plants at the big box stores, check labels. Many plants are treated with neonicotinoids, a class of insecticide that is absorbed and distributed throughout all of the plant tissues, including nectar and pollen. Both Home Depot and Lowes have committed to phasing out neonicotinoids over the next few years, but in the meantime, purchase neonicotinoid-free plants.

Plant sunflowers (plants in the genus Helianthus). Some exciting new research suggests that the nectar and pollen of flowers within the genus Helianthus may help bees reduce their parasite loads. And why not plant some sunflowers, they add beauty to any garden!
As our city continues to grow, what will sustain a thriving bee fauna is not just a few spectacular gardens, but rather a network of small patches of pollinator habitat scattered throughout our city. Your yard or pollinator garden doesn't need to be perfect to be of value to bees. I am reminded of the popular saying that it takes a village to raise a child. This is as true for bees as it is for children!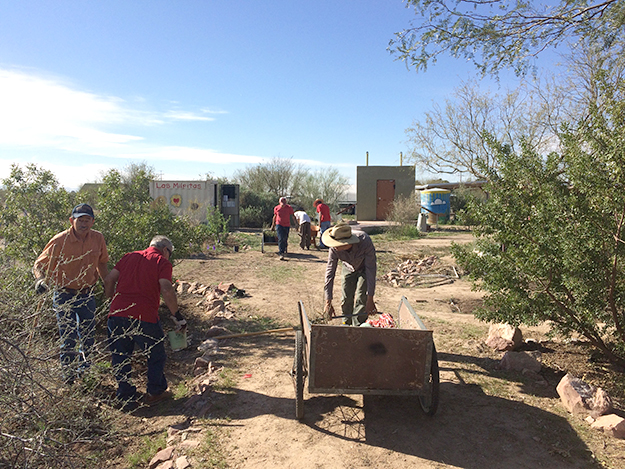 Volunteers planting a pollinator garden at Las Milpitas
Photo by Kim Franklin
Thanks to our supporters:
The Agnese Nelms Haury Program in Environment and Social Justice