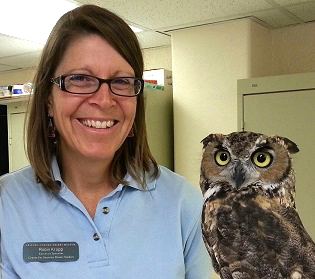 For All Outreach Programs:
Bring a Desert Discovery Program to your school! Most Desert Discovery programs use live animals, museum artifacts, and interactive demonstrations that focus student's attention on natural history topics about the Sonoran Desert. Programs are 45-50 minutes in length and are linked to the Arizona Academic Standards in Science.
Offered: Tuesday through Friday.
Length: 45-50 minutes
Students: up to 4 presentations of the same program per day - 30 student maximum per program
Let's take an imaginary walk through the desert to discover hidden animals and plants. While meeting some of these fascinating desert dwellers, students will identify the special adaptations each has for survival in the desert environment.
Discover the desert plants and animals that interact with the saguaro and meet the animals that depend upon this giant for shelter and food. Learn how the saguaro is adapted to life in the Sonoran Desert. Investigate pollination and seed dispersal to discover how the saguaro and other plants depend upon animals, and vice versa. And even meet some of these animals along the way.
Introduce students to the incredible diversity of Sonoran Desert insects, spiders, and other fascinating arthropods. Examine live animals and preserved specimens to learn about anatomy and adaptations. Determine the important roles of various arthropods in desert food chains, pollination, and our ecosystem.
Desert plants and animals display a fascinating variety of adaptations that help them thrive here. Examine desert plants' structures to reveal how they deal with the temperature extremes and aridity of this environment. Then meet some live desert animals and identify their secrets to success as desert dwellers.
Today, basic survival for most of us means regular trips to the supermarket. But imagine living in the Sonoran Desert five hundred years ago. Everything you needed came from right here. This program explores local resources that native peoples of the Sonoran Desert - Tohono O'odham, Yaqui, and Seri - have traditionally used for food, medicines, fibers, and more. Students will experiment with ethnobotanical materials to make their own cordage and discover foods and tools they might find in their own backyards. (No live animals used in this program)
Meet the carnivores of the desert and their prey. Study the skulls and body structures of these animals. Determine how predators are successful hunters, and how their prey is often able to escape!
Ask most people to describe a "desert" and you'll likely hear words like dry, hot, and dusty. The Sonoran Desert defies stereotypes with a great variety of plants, animals and ecosystems. Learn why our desert is so diverse and why diversity is good for us, then meet a few of the animals that live in our diverse naturehood!
Special Event Visit
Does your school/youth group have a Science Fair or festival coming up? If our standard classroom format programs don't meet your needs we can come to your location for a Special Event Visit. Our Desert Museum educators will interact with your group in a festival setting. We will be at a table and provide hands-on exploration of artifacts interspersed with live animal interpretations. (It will depend on suitability of environment for live animals). Recommended for Science Fairs and festivals.
Register: Reservations are required with a 30-day minimum advance notice. Your reservation is confirmed when reservation letter has been faxed and/or emailed to you. Reservation Information
Full Payment is due at least two weeks in advance by purchase order or check. Purchase orders must be emailed to education@desertmuseum.org. Checks need to be mailed. Additional fees for more than 50 miles outside Tucson area.
Mailing address: Arizona-Sonora Desert Museum, 2021 N. Kinney Rd., Tucson, AZ 85743, ATTN: Education Department. Fax: 520.578.8020
Need something else? Email education@desertmuseum.org.
Pricing
Outreach Program Fee: $300 total for the first two presentations of the same program: $120 each additional presentation. Two Presentation Min. - Four Presentation Max. Program and fee min/max are applied to the same program conducted on the same day.
Special Event Price: $300 for the first hour. $120 each additional hour (up to 4 hours). Prices are not pro-rated for partial hours.
Travel Fees for roundtrip distances 50 miles and over:
| | |
| --- | --- |
| 50-100 miles | $260 |
| 100-150 miles | $360 |