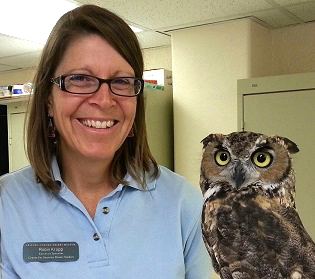 For All Outreach Programs:
Bring a Desert Discovery Program to your school! Most Desert Discovery programs use live animals, museum artifacts, and interactive demonstrations that focus student's attention on natural history topics about the Sonoran Desert. Programs are 45-50 minutes in length and are linked to the Arizona Academic Standards in Science.
Offered: Tuesday through Friday.
Length: 45-50 minutes
Students: up to 4 presentations of the same program per day - 30 student maximum per program
Let's take an imaginary walk through the desert to discover hidden animals and plants. While meeting some of these fascinating desert dwellers, we will identify the special adaptations each has for survival in this dry environment.
Did you know saguaros are only found in the Sonoran Desert? Learn how the saguaro is adapted to life here, and explore the important partnerships it shares with other living things. Discover how the saguaro depends on animals for pollination and seed dispersal, and meet the animals that rely on this giant for shelter and food.
Let's build a food web to explore how the sun's energy flows through plant "food factories" to producers, consumers, and decomposers. Meet live herbivores, carnivores, and more to discover the important jobs each living thing performs to provide food or return nutrients to the soil to start the cycle anew.
Introduce students to the incredible diversity of Sonoran Desert insects, arachnids, and other fascinating arthropods. Examine live animals and preserved specimens to learn about anatomy and adaptations. Determine the important roles of various arthropods in desert food chains, pollination, and our ecosystem.
Plants and animals display a fascinating variety of adaptations that help them thrive in the Sonoran Desert. Examine desert plants' structures to reveal how they deal with the temperature extremes and aridity of this environment. Then meet some live desert animals and identify their secrets to success as desert dwellers!
Biomimicry is an approach to innovation that seeks sustainable solutions to human challenges by emulating nature's time-tested patterns and strategies. Through experimentation with models, a live animal encounter, and exploration of how animal and plant adaptations have inspired human innovation, students will understand and be inspired to seek solutions to modern sustainability problems.
People are moving plants and animals around the planet and into new environments more rapidly than ever before. Discover what makes a non-native species invasive and learn about the challenges this creates for iconic Sonoran Desert plants, animals, and landscapes. Explore solutions to these threats and learn ways that we can all help! (This program requires classroom equipment for a PowerPoint presentation.)
From lizards, to tortoises, to snakes, meet the remarkable reptiles of the Sonoran Desert. Compare their diverse strategies for movement, defense, and feeding. Discover the unique adaptations that make them hardy desert survivors.
Birds, bats, and bees are all around us, but what makes them special? Let's explore their adaptations for getting airborne and discover how they use the power of flight for their unique roles in our desert ecosystem. We'll even meet a live feathered friend!
As Sonoran Desert dwellers, we have the privilege of sharing the desert with many plants and animals. Some may seem unfamiliar or even a little scary. We'll explore the lifestyles and beneficial roles of our animal residents and learn how to be good neighbors with wildlife.
Special Event Visit
Does your school/youth group have a Science Fair or festival coming up? If our standard classroom format programs don't meet your needs we can come to your location for a Special Event Visit. Our Desert Museum educators will interact with your group in a festival setting. We will be at a table and provide hands-on exploration of artifacts interspersed with live animal interpretations. (It will depend on suitability of environment for live animals). Recommended for Science Fairs and festivals.
Register: Reservations are required with a 30-day minimum advance notice. Your reservation is confirmed when reservation letter has been faxed and/or emailed to you. Reservation Information
Full Payment is due at least two weeks in advance by purchase order or check. Purchase orders must be emailed to education@desertmuseum.org. Checks need to be mailed. Additional fees for more than 50 miles outside Tucson area.
Mailing address: Arizona-Sonora Desert Museum, 2021 N. Kinney Rd., Tucson, AZ 85743, ATTN: Education Department. Fax: 520.578.8020
Need something else? Email education@desertmuseum.org.
Pricing
Outreach Program Fee: $300 total for the first two presentations of the same program: $120 each additional presentation. Two Presentation Min. - Four Presentation Max. Program and fee min/max are applied to the same program conducted on the same day.
Special Event Price: $300 for the first hour. $120 each additional hour (up to 4 hours). Prices are not pro-rated for partial hours.
Travel Fees for roundtrip distances 50 miles and over:
| | |
| --- | --- |
| 50-100 miles | $260 |
| 100-150 miles | $360 |