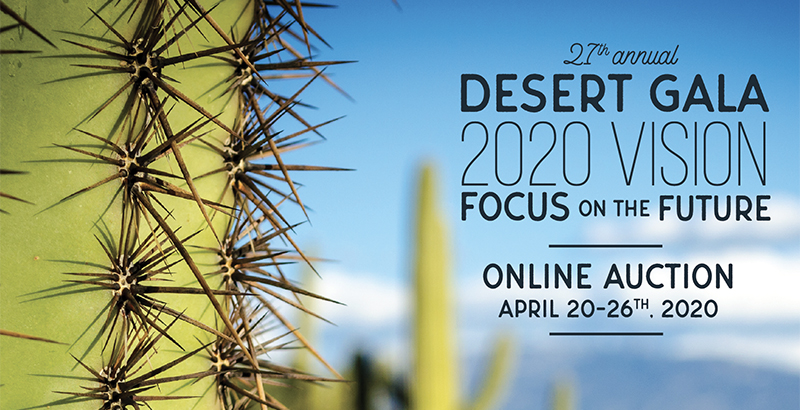 Thank you for joining us for the 27th Annual Desert Gala for the Arizona-Sonora Desert Museum on Sunday, April 26th, 2020. Due to COVID19 restrictions, this was our first-ever virtual event! Almost 500 loyal supporters participated in the online auction, over 4,000 people viewed our live Facebook event here and the virtual gala grossed $133,000 in support of the Desert Museum's amazing work, because of supporters like YOU! We hope you enjoyed the online Gala, and truly appreciate your support of the Desert Museum. We look forward to welcoming you to the next virtual Desert Museum Gala celebration in 2021!
2020 Desert Gala — Sponsors, Supporters, and Committee
The Arizona-Sonora Desert Museum is grateful to the businesses, agencies, organizations, and individuals who supported our 27th annual Desert Gala as sponsors and underwriters.
Special thanks to the 2020 Desert Gala Committee Members:

Deb Bright Donnelly
Paul Donnelly
Susan Congdon Ott
Patty Doar
Laura Eberly
Eileen Evans
Kimberly Flack
Debbie Franks
Mike Franks
Jeanne Gadea
Manuel Gadea
Randi Malisewski
Joe Malisewski
Shannan Marty
Bret Muter
Amy O'Reilly Draper
Andrea Ortega
Barbara Peck
Chris Pendleton
Neal Preimesberger
Susan Preimesberger
Pam Soldwedel
Paul Spaeth
Jan Spaeth
Judy Studwell
Casey Woods
Tamara Wilson
and Desert Museum Staff

Special thank you to our 2020 Desert Gala sponsors and underwriters:

Mountain Lion Sponsors

TEP
UFCW LOCAL 99

Saguaro Sponsors

CBIZ
Paul & Alice Baker

Ambassador Sponsors

Anonymous
Alphagraphics
AZPM
Arch & Laura Brown
BBVA
BeachFleischman
FEG Investments
Judy Gans & Joe Kalt
Lewis Roca Rothgerber Christie LLP
Shannan Marty & Chris Pendleton
Pima County
Peter & Nancy Salter
Tohono O'odham Gaming Enterprise
Tucson Lifestyle
Tucson Subaru
University of Arizona Foundation
Visit Tucson

Thank you to our ticket purchasers and donors:

Kerry Baldwin
Robert Barnes
Jeannette Barnes
Stephen Brigham
Lindy Brigham
Jennifer Bushroe
Mike Cardwell
Susan Carlisle
Georgiann Carroll
Sarah Congdon
James Cook
Jennifer Crane
Sarah Davis
John Davis
Patricia Dickens
Loretta Donato
Margaret Downs
Terry Enfield
Kerk Ferguson
Debbie Ferguson
Marty Flack
Kim Flack
Janet Flynn
Fred Frelinghuysen
Laura Fuchs
Ava Galbraith
Denise Garland
Clyde Goldberg
Lisa Harris
Evelyn Harrison
Trevor Herndon
Mike Houghtaling
Kathi Houghtaling
David Hueter
Judith Hueter
Glennis Hummel
Edith Hund
Terry Jackson
Juliana Kasper
Janet Kleinsmith
Gary Kochuba
Janet Laird
Marcia Lambert
Margaret Larsen
George Larsen
Eleanor Lee
John Leech
Stewart Lunn
Lynn Marvel
Michael McDonald
DeAnna McDonald
Thomas McDonald
Savannah McDonald
Elizabeth McDonald
Denise Meeks
Bret Muter
Marcia Patterson
Susan Preimesberger
Neal Preimesberger
Mary Price
Susan Rodgers
Richard Rodgers
David Rossetter
Pam Rossetter
Elizabeth Sampsel
Celine Santana
Alex Schauss
Laura Schauss
Lucinda Smedley
Randy Spalding
Mary Voyatzis
Nick Waser
Rondell Wilson
Tamara Wilson
Samuel Yocum

Thank you to our auction donors:

Agustin Kitchen
Alfonso Olive Oil & Balsamics
Aloft
Amerind Foundation
Anthony Fredericks
Antigone Book store
Arizona Biltmore
Arizona Diamondbacks (baseball)
Arizona Theatre Co.
Armory Park Inn
Arte de la Vida
ASDM Art Institute
ASDM Botany
ASDM Education
ASDM Education-Earth Sciences
Bach's Greenhouse
Ballet Tucson
Barrio Bread
Bearizona
Beyond Bread
Biltmore Portrait Studio
Bisbee Breakfast Club
Blue Willow
Bodyworks Pilates
Bret Muter & Kerk Ferguson
Buffalo Exchange
Buffalo Trading Post
CAID Industries, Inc
Callaghan Vineyards
Caps & Corks
Casa de San Pedro B&B
Casino del Sol
Cave Creek Ranch
Cheri's Desert Harvest
Children's Museum Tucson
Chris Bubany
Civana Wellness Resort & Spa
Civano Nursery
Commoner & Co.
Compass High School
Craft Culinary Concepts
D&D Designs
David Adix Studio
Deb Bright Donnelly
Desert Botanical Garden
Desert Planters
Dream Dinners
EcoSense
Elsie's Emporium
Equinox Environmental
Fox Restaurant Concepts
Fox Tucson Theatre
Hacienda Del Sol Guest Ranch Resort
Handi-Dogs
Heard Museum
HF Coors
Home Depot
Jan Bell
Japanese Friendship Garden of Phoenix
Jay Pierstorff
Jeff and Mica Bane
Jimmy Daboul
John Wiens
Jonathan's Cork
Judy Gans
Karen Warfield
Kathy Krucker
Kathy McLean
Kelly Green Trees
Kief-Joshua Vineyards
Kingfisher
Kornegay Design, LLC
Laurie Nessel
Le Visage La Encantada
Leiloni Design
Live Theatre Workshop
Lodge on the Desert
Lowes Ventana
Midtown Artisans
Mini-time Machine Museum of Miniatures
Mona Hodgson
Nancy Biggins
Native and Nature
Native Seeds Search
Omni Hotels & Resorts
Out of Africa Wildlife Park
Phoenix Art Museum
Photographic Works
Priscilla Baldwin
Quality Pottery
Rancho Rossa Vineyard
Reid Park Zoo
Rialto Theatre
Richard Maxwell
Salon de Nouveau
Santa Rita Lodge
Santiago Cudney
Sean Parker Photography
Shamrock
Shannan Marty
Sonoran Glass School
Sportsman's Warehouse
Summit Hut
Susan and Neal Preimesberger
Tam Wilson
Tanque Verde Guest Ranch
The Lodge at Ventana Canyon
U of Arizona Department of Entomology
Uline
US Foods
Westward Look Wyndham Grand Resort & Spa
Wildland Trekking Company
Wildlife World Zoo & Aquarium & Safari Park
Yoga Oasis
Zona 78 Italian Kitchen

YOU have all made a difference for the Desert Museum, thank you for your support.
Interested in being a sponsor or underwriter for future Arizona-Sonora Desert Museum events and activities? Contact Brittany Smith at bsmith@desertmuseum.org or 520-883-3071