Volunteer Opportunities at ASDM
Thank you for your interest in volunteering with the Arizona-Sonora Desert Museum!
Looking for an opportunity to work with animals? Consider volunteering with the Interpretive Animal Collection! Volunteers in this position enjoy the up-close and personal nature that the IAC provides. For more information, select 'Interpretive Animal Collection, Animal Experiences' in the list below.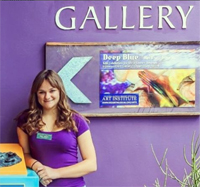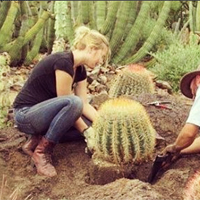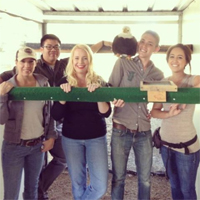 Volunteer Opportunities are available in the following areas:
Volunteer Description:

Are you looking for a short-term service project, ideal for groups of any size? Consider signing-up for a Buffelgrass pull. These volunteers enjoy a guided hike into the mountains that surround the Desert Museum while learning about the invasive plant species, Buffelgrass. Removal efforts focus around wildfire prevention.

Benefits:

This is a great opportunity to enjoy a scenic hike in the early morning or late afternoon while directly contributing to desert conservation.

Requirements:

Applicants must be able to hike off trails and handle steep/rocky terrain. Applicants must also be willing to perform manual labor in hot and cold weather conditions.

Current Openings:

Buffelgrass pulls typically occur during a 3-4 hour period in the early morning. Weekly pulls will be scheduled based on volunteer sign-up.
Volunteer Description:

Works with a group of other volunteers digging out buffelgrass in the mountains near the Desert Museum. Primary Specific Tasks: 1. Hikes into the mountains near the museum 2. Digs out buffelgrass and puts rocks on top of the piles

Benefits:

Benefits to the volunteer: Volunteers get to hike out into the Tucson Mountains and enjoy the desert outdoors and the beautiful scenery. Volunteers can feel good that they are contributing to a very worthy cause — the eradication of a serious invasive species. In this volunteer job they will learn about the ecological problems of non-native species.

Requirements:

Physical requirements: Must be able to hike cross-country, off trail, over very steep and rocky terrain. Must be able to do manual labor in hot or cold weather on steep slopes with precarious footing. Skills/knowledge required: None Background/Experience desired: Experienced hiker

Current Openings:

Varies, usually 1 morning/week during mild weather season. Infrequent during hot season. Hours: Varies, usually 7am - 11am. Season: Fall, Winter, & Spring
Volunteer Description:

Welcomes guests into the art gallery during art exhibitions, monitoring the gallery space for the safety of the artwork, and visitors, acting as a friendly and knowledgeable representative of the museum. Primary Specific Tasks: 1. Promotes the safety of the artwork in the gallery and ensures that visitors are not touching/damaging the artwork. 2. Answers visitor questions about the exhibitions and general museum information. 3. Answers the phone in the gallery 4. Assists in the sales of artwork and gallery shop items by filling out the Gallery Sales Invoice form and processing credit card payment

Benefits:

Volunteers have the opportunity to work in a pleasant and comfortable indoor environment. In addition, they are invited as guests to opening receptions and sometimes get to meet the artists.

Requirements:

Commitment: This is an ongoing position. The Art Institute prefers those who can commit to three hours a week 52 weeks a year or at least two months at a time which is the average duration of each exhibition. Number of Volunteers in this position: 14 regular volunteers with some call-ins Skills/knowledge required: Must be friendly, enjoy talking with visitors, able to work well with people, and be able to tell people what they may not do in a polite, friendly way. Volunteers must take the time to read the volunteer handbook to familiarize themselves with elements of each exhibit. Background/Experience desired: An interest in art, arts education, art history, natural history Other requirements: Must have at-home email capability as all communications are completed via email.

Current Openings:

Varies
Volunteer Description:

Volunteers in this position are stationed around the front patio and they support Guest Services staff by approaching museum Guests and welcoming them in a friendly manner. Volunteers in this position are also the Museum's first impression to Guests and they are essential when it comes to creating a welcoming and informative museum experience. 1. Approaching Guests (of all group sizes) and welcoming them to the Museum 2. Directing Guests to the appropriate entry lines to keep things moving 3. Suggesting that Guests become museum members 4. Distributing maps and providing information on daily programing/upcoming events 5. Assisting GS staff by retrieving wheelchairs 6. Assisting GS staff by retrieving electric scooters and demonstrating their use to Guests 7. Helping to answer or solve a variety of visitor questions or concerns 8. Monitoring the exit gates and thanking Guests as they depart 9. Collecting Lost & Found items and giving them to GS staff Duration: 6-12 months # of volunteers in this role: 42

Benefits:

This is a great opportunity to meet Guests from around the world, while sharing your passion for the Sonoran Desert region.

Requirements:

Physical requirements: Applicants must be able to maneuver around the front patio areas and be comfortable working in winter cold and summer heat. Skills/knowledge required: Applicants must demonstrate excellent customer service skills and be comfortable interacting with a diverse population of Guests (i.e.: age, race, gender, etc.). Other Requirements: Volunteers in this position must be available to attend a one hour training session for each year they volunteer.

Current Openings:

Saturday 7:30 - 11am
Volunteer Description:

The Interpretive Animal Collection is dedicated to the husbandry and training of a diverse collection of birds, mammals, reptiles, and invertebrates. The IAC volunteer will assist the staff with projects related to the daily care of the IAC animals.

Primary Specific Tasks: Assist with proram animal management tasks including but not limited to: cleaning animal enclosures, handling snakes, feeding animals, enrichment.
Aspects of daily animal husbandry and care:

70% Cleaning of exhibits and enclosures (scrubbing, hosing, raking, sweeping)
10% Daily observations (visuals on animals and their surroundings)
10% Daily diet feeding/animal handling
10% Implementing animal enrichment

Benefits:

Unique experience of working in a hands-on environment with captive wild animals of the Sonoran desert.

Requirements:

Work schedule: This is an in-depth program requiring a 4.5 hour per week commitment. The shift has a constant day and we require an 85% attendance rate. The IAC has volunteers every day of the week including weekends and holidays.

Commitment: We require at least an 8 month time span commitment to volunteer in IAC as it takes up to 4 months to be trained. With our 85% time commitment we do ask that time off be requested as far ahead as possible to potentially find coverage.

Qualifications:
Physical requirements: Walking, standing, ability to bend, kneel, balance while doing a variety of tasks, work outdoors throughout the year, ability to lift 25 lbs.
Skills/Background/Experience desired: no specific background or skills required.

Other Requirements: Good general communication skills, ability to work independently as well as in group settings. Work well with people of all ages and backgrounds.

Current Openings:

Shift: 7:30AM - 12:00PM Openings: Wednesday & Saturday
Volunteer Description:

The Raptor Free Flight program hosts one demonstration per day, during the fall and spring seasons. The RFF collection consists of predatory birds native to the Sonoran Desert. The RFF demonstrations feature free flighted birds in a desert setting (the birds are loose and are not presented on the glove). Volunteers assist with every aspect of the program, including husbandry, demonstration setup, and active participation in the demonstration- maintaining crating behaviors, doing glove calls and cueing birds to perches.

Benefits:

This is a wonderful opportunity to learn about birds of prey- their natural history, their behavior, proper handling techniques and what is needed to care for them in captivity. Raptor Free Flight volunteers will learn information about falconry, operant conditioning techniques and the philosophy of power of choice training.

Requirements:

Applicants must be 18 years or older to participate. Volunteers in this position make a once a week commitment, between the months of mid-September thru mid-April (the hours of 8:30am-12:30pm). Applicants must be able to crouch for a period of 45 minutes, stand upright quickly, run a mile, and lift/carry up to 40 pounds steadily. Applicants need to be comfortable volunteering outdoors in all weather conditions including rain and cold inclement conditions, as well as in wild desert surroundings: cactus, loose footing, wild snakes, scorpions, etc. For the safety of the animals - applicants must be able to think quickly in demanding situations, listen well and communicate decisions that related to animal needs. Applicants should have a clear understanding of the boundaries of animal interactions. Applicants are asked to submit three references. Applicant interviews will be scheduled in July and August of 2022.

Current Openings:

Mondays, Tuesdays, Fridays, Saturdays, Sundays (Shifts on all days run from 8:30 a.m. - 12:30 p.m.)
If a position aligns with your interests and availability, please fill out the following form:
Volunteer Application Form
If you're having trouble accessing the online application, please print this application form (PDF) and mail it to Volunteer & Internship Programs Coordinator (Catherine Kastens) at: 2021 N. Kinney Road, Tucson, AZ 85743.
If you have any questions or need additional information, please don't hesitate to call the Volunteer & Internship Programs Coordinator (Catherine Kastens) at: 520-883-3082 or at ckastens@desertmuseum.org.