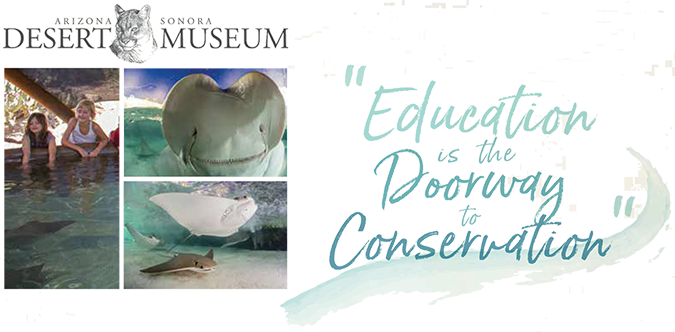 Yes! I want to support the Desert Museum's 2017 Annual Fund.
Please select the amount of your gift to the Year-End Campaign 2017 below.
Once you click the "Continue" button, you will be taken to a secure shopping cart to complete your gift. All gifts are fully tax-deductible.
November 2017
In 2013 the Desert Museum was completing the story of the Sonoran Desert Region by adding saltwater exhibits to a renovation of its aquatics gallery. I had been working for the Sonoran Sea Aquarium project and in March was asked to join this amazing institution and help bring the Gulf of California to life for Museum members and visitors.
The Warden Oasis Aquarium opened in January 2013 and our first project was to develop a class for Docents about how to share the fresh and saltwater animal stories with visitors. A tide pool touch tank was created where visitors of all ages enjoyed learning about and experiencing what it feels like to touch animals that live on the rocky shores of the beautiful Gulf of California. For many, it was the first time in their lives that they had this opportunity and we witnessed how much it inspired curiosity and wonder, not to mention learning! What a masterpiece. It's definitely a small aquarium with a whale of a story!
Then came…stingrays in the desert? What a wonderful idea I said! But, after doing some research about stingray touch experiences at other zoos, I knew that this type of animal interaction had to be different to fit the culture of the Desert Museum. How could we make this type of exhibit fit into our tranquil and serene environment? What if the stingrays "touched" our visitors instead of the visitors touching the stingrays? And so it began. Our first batch of baby rays came from the Phoenix Zoo and we decided to test this theory to see if it would work. Several of our wonderful Coati Kids Club families were invited out to the Museum to a Stingray Day! We taught them about the natural history of the stingrays and about the new exhibit.
Then families were invited behind-the-scenes and coached to just put their hands in the water to see if the rays would swim to them. It seemed to work well, and as the exhibit was being constructed we worked behind the scenes with the rays letting them become accustomed to touching us.
It worked! The "being touched" concept worked so well that in May of 2016 we recruited over 40 Aquatic Interpreter volunteers to work in this new and exciting exhibit. Stingray Touch! opened to the public on August 6th, 2016 and was overwhelmingly well received by our visitors. Not only is this new "touch" concept better for the welfare of our beautiful animals, and aligned with the culture of the Desert Museum, but our visitors come away with more respect and understanding about animal experiences.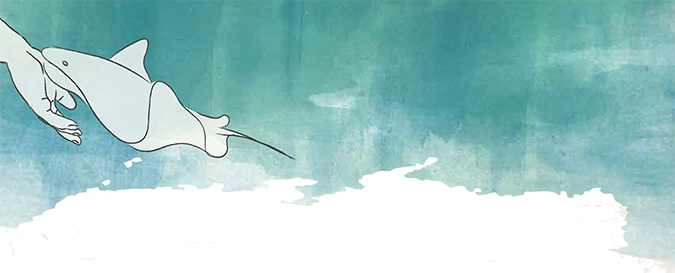 Walking down the path I can hear sounds of joy and excitement coming
from the Museum's newest exhibit Stingray Touch!
In my four short years here at the Museum I've learned much more about our beautiful region than I had learned in my lifetime. My position here and my passion for education and wonder has brought me full circle in my career and I am retiring this month to join my husband to set sail to the South Pacific and beyond on our sailboat. I am ready to embark on a new journey and I can say with certainty that retirement will be very influenced by what I've learned while at the Museum and by the extraordinary friendships I've made amongst the staff and volunteer corps. What a way to end my amazing career! I will always stay connected to the Museum – in mind, spirit, and of course, by "sail mail".
Now more than ever it is important to support the Desert Museum and its mission of conservation, education, and awareness about the Sonoran Desert. I hope you will join me, and my family, in considering a contribution to this year's annual giving campaign. With your generous support the Desert Museum will continue to inspire your desire to know what's in your own backyard. Our world is the gift that keeps on giving. Wishing you all aloha!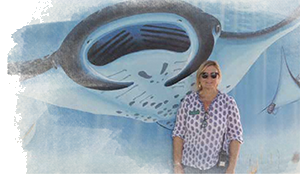 With gratitude,

Julie Xelowski-Brooker
Education Specialist
Conservation, Education and Science

For additional information contact Dave Eshbaugh, Director of Philanthropy, 520-883-3039, deshbaugh@desertmuseum.org
Printable Version