Dining at the Desert Museum
Mother's Day Brunch
11:00 a.m. to 3:00 p.m. — Sunday, May 13, 2018.
Enjoy a special à la carte menu at the Ocotillo Café.
Priced from $25-$29 for adults and $10-$15 for children.
Entrées will include choice of salad or soup, one entrée selection, and one dessert selection.
Beverage and gratuity not included. Children 3 and under free and adult entrée purchase. Member discount will apply with membership card.
Mothers receive a complimentary rose and Mimosa!
Make your reservations today by calling 520-883-1380 ext. 7212, or via email at kat.mcintosh@rojohospitality.com.
Admission rates for RSVP holders only: Non-member ages 13+: $14.95 per person & ages 3-12: $7.95 per child.
Desert Museum members & children under age 3: Free — Become a Member today!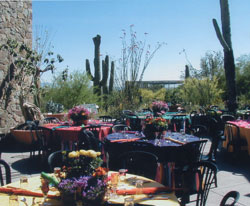 Ironwood Terraces
Ironwood Terraces
NOTE: April 29th, 2018: The Ironwood Terraces will be closed on this day for a special event. A cookout on the patio of Phoebe's Café will be offered from 11:00 a.m. to 4:00 p.m.
A casual multi-station food court, offering a complete menu including children's items, open every day.
Jan 1st - Apr 30th
Grill: 11:00am to 4:00pm daily
Agave: 11:00am to 3:00pm daily
May 1st - Sept 30th
11:00am to 3:00pm Sun-Fri


Grill Only


11:00am to 9:00pm Sat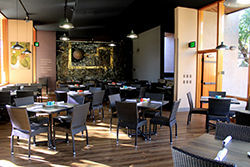 Ocotillo Café
Ocotillo Café
NOTE: April 25th - May 25th, 2018: The Ocotillo will be closed during this period.
Offering relaxed and casual dining, open seasonally for lunch in winter and spring, and for dinner on Cool Summer Nights. We focus on locally sourced ingredients to create regional southwest cuisine. Reservations not required, but suggested for parties of 8 or more. Please call 520.883.1380, Ext 7212 to make your reservation.
Ocotillo Café Menus
Jan 1st - Apr 24th
Lunch: 11:00am to 2:30pm daily
May 26th - Sept 30th
Lunch: 11:00am to 3:00pm Sat
Dinner: 5:00pm to 9:00pm Sat
Phoebe's Coffee Bar
Offering hot and cold drinks, pastries, sandwiches, ice cream and other snacks.
Jan 1st - Feb 28th
8:30am to 5:00pm daily
Mar 1st - Sept 30th
7:30am to 5:00pm Sun-Fri
7:30am to 10:00pm Sat
The Cottonwood
Snack shop offering hot and cold drinks and ice cream.
| | |
| --- | --- |
| Jan 1st - Apr 30th | 11:00am to 3:30pm Wed-Sun |
| May 1st - Sept 30th | 11:00am to 9:00pm Sat |
Picnics
There is a small public picnic area just outside the Museum's entrance. Outside food is not allowed on Museum grounds, except to accommodate food allergies/intolerances or religious restrictions.