Due to COVID-19 safety measures, the Packrat Playhouse is currently closed to general admission. However, it is available for
private group rentals
.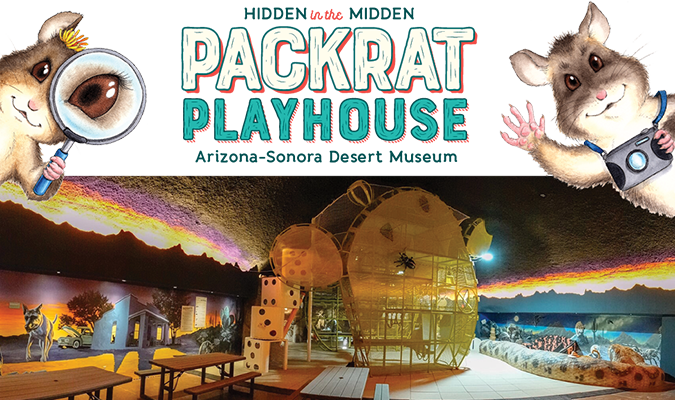 Have you ever wondered what it's like to be a packrat? Scamper over to the Desert Museum's newest exhibit, Packrat Playhouse to find out! This indoor (air-conditioned) play space allows children to discover the desert through the eyes of this curious critter. Kids can slide down a Gila monster's tail, climb through prickly pear cactus pads, slither through an oversized rattlesnake, explore secret tunnels, find hidden objects, scramble in giant rope netting, and much more! Toddlers (Infant to 3 years old) will enjoy their own safe zone separated from bigger kids.


Birthday, family fiesta, holiday gathering?? Be a kid again and reserve your exclusive Packrat Party today!

Grab a snack and a beverage at the café, then sit and enjoy the air conditioning while your youngster climbs, learns, and explores. Packrat Playhouse features stroller parking, wifi, and family style bathrooms. It's a comfortable pit stop for nursing mothers too!