Music at the Museum - Come Sing with the Saguaros!
Celebrate the Sonoran Desert with monsoon music and more! Sing along and serenade the saguaros as you learn more about this beautiful region's biodiversity. Select the plus sign (+) for song lyrics, chords, and links to related activities and information.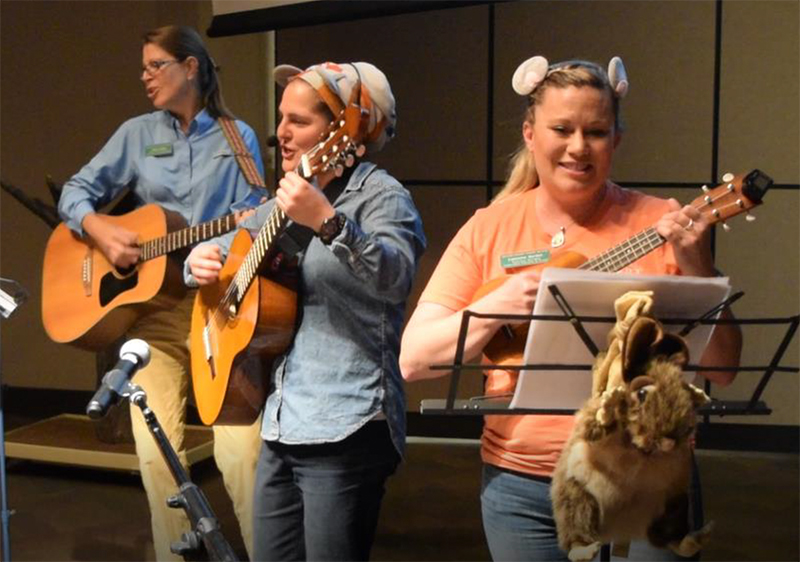 Robin, Michelle, and Catherine playing instruments at a Desert Museum singalong.
Monsoon Season
Lyrics PDF for Monsoon Season (opens in new window)
Verse 1
A Winter seems so far away
Been so long since E it has rained
So A hot and dry I just wanted to cry
E Hooray! Look, there's some A water
Chorus
A 'Cause it's monsoon season in the desert
It's D monsoon season in the desert
Feels A like it hasn't rained in forever
But now it's E monsoon season in the A desert
Verse 2
A Animals hiding underground
Come to the surface to E look around
It A finally rained, time to celebrate
The E desert comes to A life again!
Chorus
Verse 3
A Toads and frogs dig out of the ground
To lay some eggs and E find some food
A Centipedes, millipedes, & beetles, too
E All come up — it's a A critter zoo
Chorus
Verse 4
A Thirsty cactus is in luck
When there's water E to drink up
To A save for later when they need it most
So the E sun doesn't burn them — like A saguaro toast
Chorus
Bridge
D Termites and ants come out for mating A flights — oh, yeah!
E Hoping they don't get eaten by velvet A mites — yum, yum!
D Gila monsters emerge, what a special A sight — wow!
B7 Vinegaroons love a good shower too
These E storms are a delight! Oh…
Chorus
OUTRO repeat 2x:
E Monsoon season in the A desert
Guitar Chords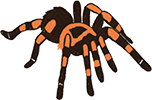 Syndenn dressed as a saguaro
with a double bass.
Artists on this song
Michelle Miner — vocals & acoustic guitar
Syndenn Sweet — vocals, banjo guitar, & electric bass
Brian Hanner — drums & percussion
Explore water related information and activities!
I Think I Pan Experiment (PDF)
Gila Monster Coloring Page (PDF)
Make Your Own Rain Gauge (PDF)
Wildlife and Water Information (PDF)
Monsoon storm photos
---
I L O V E this D E S E R T
Verse 1
C Going on a trip, where F will it G be?
C Driving through the mountains, such F majesG ty
A C forest of saguaros inF stead of trees
ToF day I have a feeling we'll make G memories
Chorus
F I L O C V E this G D E S E R T
Yeah, F I L O C V E this G place I like to roam
F I L O C V E this G D E S E R T
And I L O V E our Sonoran Desert home
Verse 2
C Now we're at the entrance, I F see the G sign:
The C Desert Museum, gonna F have a great G time
ExC plore the outdoors, how the F paths do G wind
How F many plants and animals G will we find?
Chorus
Verse 3
C If we're really lucky we F might see G Cruz
C Up on his rock just F takin' a G snooze
C Yawnin' or playin' like a F giant house G cat
A F rescued mountain lion in his G habitat
Bridge
A F rattler with a tail brown, white, and black
C Javelina snortin' while they're eatin' a snack
A F bear, a wolf, a fox, a spotted ocelot
G I enjoy today an awful lot
Chorus
OUTRO
F I L O C V E our SoF noran G Desert C home
Ukulele Chords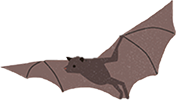 Stay tuned for more musical creations recorded at
Hanner House Records!