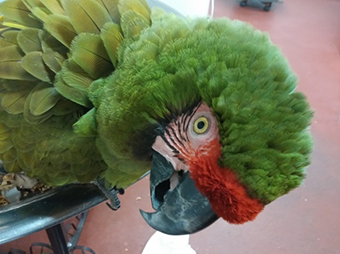 Museum Explorers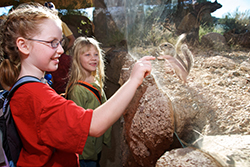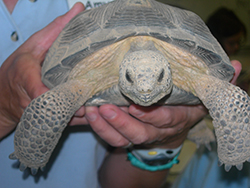 Fox: Entering Grades 1-2 in the Fall of 2019
Instructor: Robin Kropp
Are you curious about nature and want to go exploring? Fox Campers, get ready to journey through the Sonoran Desert Region as we explore every nook and cranny of the museum. From caves underground, to deserts and grasslands, to mountain woodlands on top of sky islands, we'll discover amazing diversity in our desert region. Our adventure includes investigating how desert creatures are adapted to survive in this dry environment. Our travels will also wind us through the many relationships between plants, animals and the environment. Through up-close animal encounters, hands-on activities, museum exploration and some fabulous art projects you can help us uncover the many wonders of our desert environment. Join us for the fun!
$225 Non-members
$200 Members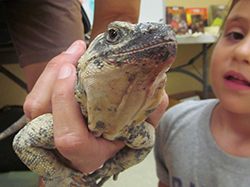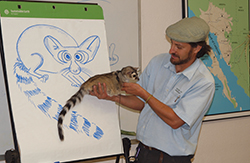 Bobcat: Entering Grades 3-4 in the Fall of 2019
Instructor: Jesús Manuel García
If you picture yourself face to face with a Barn Owl, exploring the intricate anatomy of a tarantula or having a behind the scenes tour at the desert museum, this summer camp is for you! In this camp we will experience close encounters with the flora and fauna of the Sonoran Desert Region and the Desert Museum. These activities will include a great variety of natural history programs such as nature journaling; live animal demonstrations, behind the scenes tour, hikes and exploration of the museum grounds and adjacent areas. It also includes a variety of hands-on activities related to desert ecology such as horticulture, basket weaving, musical instruments and primitive technology as well as amazing stories of the Ethnobotany and material culture of the People of the Desert; the Tohono O'odham, the Pima, the Seri, and the Yaqui.
$225 Non-members
$200 Members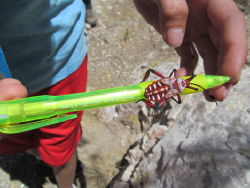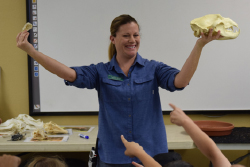 Sonoran Scientists: Entering Grades 5-6 in the Fall 2019
Instructor: Catherine Bartlett
Calling all curious kids! The natural world is full of surprises and fascinating stories. During this STEAM-focused camp kids will investigate the world around them using tips and tools of scientists. Exciting technology including blacklights, camera traps, and IR devices will be utilized for scientific observation and we'll even get to meet some Desert Museum Scientists and Zookeepers along the way! Throughout the week we'll also have up close experiences with a variety of desert animal friends, go on behind the scenes tours, and make beautiful nature — inspired art. Additionally, we'll have fun learning great #scicomm techniques (perhaps through memes, blogs, or short TED-style talks!) since the best scientists also share their discoveries in engaging ways.
$225 Non-members
$200 Members
Cancellation Policy:
Payments will be refunded (minus a $25 administrative fee) if cancellation is given 30 days or more before the start date of camp. Within 30 days of camp, refunds (minus a $25 administrative fee) will only be given if another camper is able to fill the space that was occupied by the cancelled participant.
---
About the Instructors: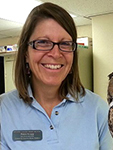 Robin Kropp has professionally shared her love of the natural world with children through adults since 1988. A Sonoran Desert native, she received her B.A. from the University of Arizona in Ecology and Evolutionary Biology, Latin American Studies, and Spanish in 1990, and completed her Masters in Education with a focus on Environmental Learning in 2003. She has been an Education Specialist at the Desert Museum since 1998 where she develops curriculum and teaches on-site and outreach programs for a variety of students. She also coordinates the Museum's Coati Kids Club programs and a variety of native foods cooking classes.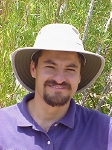 Jesús Manuel García was born and raised in Magdalena de Kino, Sonora, México. In 1987, after finishing a degree in Elementary Education at Escuela Normal del Estado in Hermosillo, Sonora, he moved to Tucson, Arizona. In 1996 he returned to school and attended Pima Community College and the University of Arizona, earning a Bachelor's degree in Ecology and Evolutionary Biology, with a minor in Cultural Anthropology. Jesús has been associated with the Arizona-Sonora Desert Museum since 1991, first as a Docent (volunteer) and then as an Education Specialist. Jesús teaches natural and cultural history and ecology to youth and adults throughout Southern Arizona and Northern Sonora. Jesús' research interests focus on the agricultural history of the borderlands. He is also an instructor in the Desert Museum's Art Institute. His other interests and talents include conservation biology, languages, music and gardening.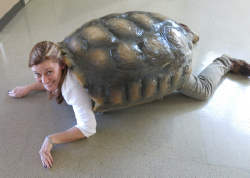 As an Education Specialist for the Arizona-Sonora Desert Museum, Catherine Bartlett teaches warm-blooded primates of all ages about multi-legged creatures. While some might think them creepy, Catherine has been working to change people's negative perceptions by utilizing humorous interpretive techniques. She's a passionate advocate for STEMinists and fervently believes that #BugsR4Girls. Additionally, she's increasingly been involved in Community Engagement strategies for the museum, program design, blogging, and furthering binational collaborations. Catherine is an active committee member for the Invertebrates in Education and Conservation Conference and serves on the Leadership Team for Tucson Improv Movement, where she performs short and long-form improv. She received her B.S. in Zoology from Northern Arizona University, M.S. in Entomology and M.Ed. in Teacher Education, both from the University of Arizona. As a native Tucsonan, Catherine has an ingrained appreciation for Wildcat Basketball, burritos, and sunscreen.