Sips with Scientists: Incredible Coyotes!
Wednesday, March 3, 6:00 pm MSTThe current time in the MST timezone is 2:59 pm
Duration: 30 minutes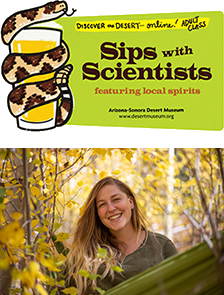 Grab a bevy and tune in to laugh and learn at a virtual and educational happy hour. Join the Desert Museum's Education Manager, Catherine Bartlett, as she interviews scientists from around the world- and not necessarily about their area of expertise! Be silly. Be surprised. BYOB.
This week we'll meet Zoë Rossman who knows everyone has a coyote story. What's yours?
Zoë Rossman is a Ph.D. student at the University of New Mexico studying urban coyotes. Her current research is on Chicago's coyote population, using stable isotopes to better understand what these carnivores eat, how they move, and the ways they interact in urban environments. Originally from Northern California, Zoë attended the University of California, Davis for her undergraduate degree, where she researched elephant behavior before making the move to the desert and beginning her coyote research. In her free time, Zoë enjoys seeking out (and photographing) the critters of New Mexico's wildlife refuges, forests, and cities, tending to her houseplant collection, and watching Top Chef with her kitten, Thistle.
Register below