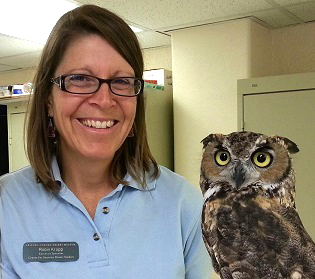 For All Outreach Programs:
Bring a Desert Discovery Program to your school! Most Desert Discovery programs use live animals, museum artifacts, and interactive demonstrations that focus student's attention on natural history topics about the Sonoran Desert. Programs are 45-50 minutes in length and are linked to the Arizona Academic Standards in Science.
Offered: Tuesday through Friday.
Length: 45-50 minutes
Students: up to 3 presentations of the same program per day - 30 student maximum per program
Programs Available
Special Event Visit
Does your school/youth group have a Science Fair or festival coming up? If our standard classroom format programs don't meet your needs we can come to your location for a Special Event Visit. Our Desert Museum educators will interact with your group in a festival setting. We will be at a table and provide hands-on exploration of artifacts interspersed with live animal interpretations. (It will depend on suitability of environment for live animals). Recommended for Science Fairs and festivals.
Register: Reservations are required with a 30-day minimum advance notice. Your reservation is confirmed when reservation letter has been faxed and/or emailed to you. Reservation Information
Full Payment is due at least two weeks in advance by purchase order or check. Purchase orders must be emailed to education@desertmuseum.org. Checks need to be mailed. Additional fees for more than 50 miles outside Tucson area.
Mailing address: Arizona-Sonora Desert Museum, 2021 N. Kinney Rd., Tucson, AZ 85743, ATTN: Education Department. Fax: 520.578.8020
Need something else? Email education@desertmuseum.org.
Pricing
Schools meeting the Title 1 discount criteria; all requests will be verified on the U.S. Department of Education website — $300
Other schools, youth groups, home schools, and libraries — $350
$120 each for an additional presentation, with a maximum of three presentations of the same program conducted on the same day.
Special Event Price: $300 for the first hour. $120 each additional hour (up to 4 hours). Prices are not pro-rated for partial hours.
After hours and Weekend Fee:
| | |
| --- | --- |
| $150 | After 4 p.m. Mon-Fri and any time Sat-Sun |
Travel Fees for roundtrip distances 50 miles and over:
| | |
| --- | --- |
| 50-100 miles | $260 |
| 100-150 miles | $360 |