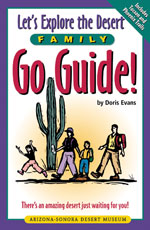 Supplement for Family Go Guide
Field Guides

(suggested readings from the Family Go Guide!)
There are a number of field guide series available. Books within these series cover many natural history subjects. Here are some of the popular field guide series, including series aimed at children with pertinant titles listed beneath each. Toward the end of this list are some individual field guides of interest.
Field Guide Series
Golden Guides (New York: Golden Books Publishing Company)

These pocket-sized books have been used by adults and children for many years. Over 30 titles are in the series. Here is a sampling.

Birds Mammals
Butterflies and Moths Venomous Animals
Reptiles and Amphibians Spiders and Their Kin
Insects Rocks and Minerals

Easy Field Guides (Phoenix: Primer Publishers)

These pocket-sized booklets of about 30 pages each include excellent black and white line drawings of southwest desert animals and a short description of each.

Easy Field Guide to Southwest Snakes
Easy Field Guide to Common Desert Insects
Easy Field Guide to Common Desert Cactus
Easy Field Guide to Arizona Mammals

National Audubon Society Field Guides (New York: Alfred A. Knopf Incorporated)

Each title begins with "North American"

Wildlife: Western Region Insects and Spiders
Reptiles and Amphibians Mammals
Butterflies Rocks and Minerals
American Birds: Western Region Night Sky

Peterson Field Guides (Boston: Houghton Mifflin Company)

There are over 50 titles in this popular series.

Western Birds Insects
Mammals Southwestern and Texas Wildflowers
Rocks and Minerals Western Butterflies
Animal Tracks Hawks
Western Reptiles and Amphibians Western Trees

Southwest Parks and Monuments Series (Tucson: Southwest Parks and Monuments Association)

50 Common Birds of the Southwest
50 Common Reptiles & Amphibians of the Southwest
70 Common Butterflies of the Southwest
70 Common Cacti of the Southwest
Field Guides for Kids
National Audubon First Field Guides (New York: Scholastic, Incorporated).

These books serve as home references as well as field guides and include background information about the subject, color photographs, and a reference section. Titles include:

Insects Birds
Mammals Wildflowers
Reptiles Rocks and Minerals
Trees Weather
Amphibians

Peterson Field Guides for Young Naturalists (Boston: Houghton Mifflin).

These guides are not specific to the southwest.

Backyard Birds Caterpillars
Songbirds Butterflies
Shorebirds Wildflowers
Bizarre Birds
Individual Field Guides
Arnett, Ross H. and Richard L. Jacques

1997 Simon and Schuster's Guide to Insects and Spiders. New York: Simon and Schuster.
Large photographs, clear descriptions, easy use of classification, and good introductory information.


Davis, Barbara

1997 Field Guide to Birds of the Desert Southwest. Houston: Gulf Publishing Company.

Earle, W. Hubert

1990 Cacti of the Southwest. Bisbee, AZ: Tortilla Press.

Epple, Anne Orth

1995 A Field Guide to the Plants of Arizona. Helena, MT: Falcon Publishing, Incorporated.

Halfpenny, James and Elizabeth Biesiot

1998 Field Guide to Mammal Tracking in North America. Boulder, CO: Johnson Books.

Merlin, Pinau

1999 A Field Guide to Desert Holes. Tucson: Arizona-Sonora Desert Museum Press.

Robbins, Chandler S., Bertel Bruun, and Herbert S. Zim

1983 Birds of North America. New York: Golden Books Publishing Company.

Sheldon, Ian

1998 Animal Tracks of Arizona and New Mexico. Renton, WA: Lone Pine Publishing Company.

Smith, Hobart M.

1990 Reptiles and Amphibians of North America. New York: Golden Books Publishing Company.

Stall, Chris

1990 Animal Tracks of the Southwest States. Seattle: The Mountaineers.

Watts, May Theilgard and Tom Watts

1974 Desert Tree Finder. Berkeley: Nature Study Guild.
An easy key for identifying desert trees, yuccas, and cactus.