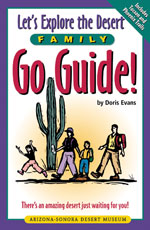 Supplement for Family Go Guide
A Family Adventures Album

(a supplemental activity from the Family Go Guide!)
Create a family album of photos and journals devoted to your outdoor adventures.
You may not be able to take home a flower or a rock from your walk, but you can bring back photographs plus postcards and brochures from park visitor centers. Pictures are meaningful and lasting. Picked flowers dry up and are tossed away. Rocks end up in a drawer and no one remembers where they came from.
Each walk may be a separate section in your album. Mount the pictures in sequence to tell the story of your day. Alongside the photos family members can record their favorite memories of the day. You may add notes on what you learned, or include a poem or sketch inspired by the walk. This album will become a lasting journal of your nature adventures.
Heed these words of advice: After your walk, assemble your journal pages as soon as possible. Not only is everything fresh in your mind, but when photos and other mementos are set aside for more than a few weeks they get misplaced and forgotten.
Here's an idea for an easy and inexpensive album. All materials are available at office stores:
3-ring binder (binders with the clear plastic on the outsides are nice - you can make your own title cover and illustrations and slip them in)
clear sheet protectors
8 1/2 x 11 inch paper in various colors
stick glue or spray mount
optional: scissors with fancy cutting edge shapes for interesting effects
Lay out a number of paper sheets on a table. Arrange your photos and other materials on the sheets before gluing anything in place. Comments, poems, and nature notes should be done on other papers, then cut out and arranged along with the photos; that way your written work will fit in nicely with the photos. When you are pleased with your work, use stick glue or spray mount to fasten it all in place. Remember to include the trail name, date, and other information you would like to remember. It may all seem obvious now, but in a few years these details are forgotten. Slip the papers into the sheet protectors and snap them into the binder. A binder will hold dozens of pages. Your family may become so enthused about the project that you might collect quite a few binders full of memories.
If you have a digital camera you can create album pages, complete with photo layouts and captions, with your computer. For more computer fun you can e-mail photos of your adventures to friends and other family members.
Putting together an album of your outdoor explorations may seem a lot of work, but it is well worth the effort. What fun to look through the album again and again and recall all those special moments.