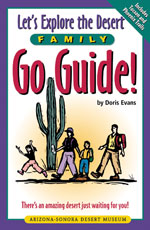 Supplement for Family Go Guide
Activities

(suggested readings from the Family Go Guide!)
National Wildlife Federation.

1998 Discovering Deserts. New York: McGraw-Hill.
Included are many activities and background information for all elementary grades.

Olmstead, Adrienne

2000 My Nature Journal: A Personal Nature Guide for Young People. Lafayette, CA: Pajaro.
Children can write and sketch in this easy-to-carry journal. Ideas for journal entries are attractively presented throughout the book. Spiral binding makes it easy to use.

Storad, Conrad

1997 Sonoran Desert A to Z Coloring Book. Phoenix: Donna Atwood Design.
Excellent illustrations of desert life are accompanied by informative captions.
More from the Let's Explore the Desert Family Go Guide