Alice: A Story of Friendship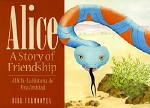 Order here
If applicable, enter your membership number or other discount code here, and click "Apply":
Not a member? Join now
by Bill Vermooten; Illustrated by Priscilla Baldwin
$15.95 New Lower Price $9.95
2007
ISBN: 1-886679-38-2
Hardcover
Bilingual: English/Spanish
Suitable for ages six to nine

Description
Alice is a rattlesnake who finds an unusual friendship in the beautiful landscape of the Sonoran Desert - somewhere in Arizona or the Mexican state of Sonora. This is a story about the meaning of friendship, and that every friend we have is unique and special.
About the Author
Bill Vermooten is a retired attorney. He was born in South Africa and raised in Texas. He, his wife Ginger, and their dog Antyrg, and their two cats Eliza and Boggart live in Lawrence, Kansas. His favorite activities are reading, writing, and Taikwondo.
About the Artist
Born in South Africa and having lived for an extended time in Texas, Hawaii and Colorado, Priscilla Baldwin experienced a broad variety of natural environments. Her experiences led her to develop a passion for gardening, architectural design, and botanical and natural science art, and her work has been the subject of numerous publications. Priscilla has served on several Boards of Directors, including the American Society of Botanical Artists and the Arizona-Sonora Desert Museum. She is the founder of the Garage Class Series in Evergreen, Colorado, and also of the Desert Museum's Art Institute. Priscilla's art work is in many private collections, and also in the corporate collections of Amirob & Associates and BVZ Architects, and in the permanent collections of the Desert Museum and the Hunt Institute for Botanical Documentation. Priscilla holds a B.A. from Sweetbriar College