A Natural History of the Sonoran Desert, 1st Edition (Soft Cover)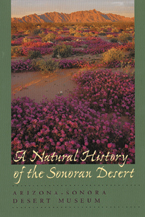 Order here
A Natural History of the Sonoran Desert, 1st Edition (Soft Cover) is currently out of print.
Edited by Steven J. Phillips & Patricia Wentworth Comus
$24.95
$22.45 Member Price
2000
ISBN: 0520219805
Soft cover; 628 pages; 32 full-color plates, 450 pen-and-ink illustrations
Dimensions 1.5 x 9.0 x 6.1 inches
Published in collaboration with The University of California Press
Description
"Once in a generation, a guide to understanding a major North American landscape comes along. This book is such a touchstone . . . sure to become a classic." - Stephen Trimble, author of The Sagebrush Ocean: A Natural History of the Great Basin
"Definitive and delightful - a fabulous compendium of facts and experiences written by the most knowledgeable scholars in the field. This encyclopedic guide will make desert rats out of those who aren't already." - Ann H. Zwinger, author of Downcanyon and Run, River, Run.
"This fine book offers one-stop shopping for authoritative answers to all your questions about a most wonderful place, the Sonoran Desert. Bees, birds, beetles, biodiversity, all right here in one place in accessible prose. Who can ask for more than that?" - John Alcock, author of Sonoran Desert Spring and In a Desert Garden.
Awards
Southwest Book of the Year (2000)
2000 Western Book Design Award
Benjamin Franklin Award
BRLA Southwest Book Award
Reviews
Sunset Magazine
"An indispensable guide for any desert visitor. . . . It offers a complete look at Sonoran Desert ecology, with details on individual species and essays that bring the desert alive."
Outside Magazine
"The award-winning text includes a calendar of natural events highlighting animal migrations, full moons, and the Sonoran Desert's awesome spring flower show."
Environmental Practice
"A Natural History of the Sonoran Desert is a monumental work, accessible to amateurs and professionals alike; it is a must for anyone planning to visit the deserts of southwestern United States."
The Journal of Arizona History
"If I am exiled to a desert isle, I now have that proverbial one book to take along: A Natural History of the Sonoran Desert. . . . It's all here. It's like sitting on the patio with the best experts and having a private tutorial."
The Desert Sun
"Never before has a book appeared that so deserved a place on the bookshelf of every desert aficionado. . . . This book is destined to become the bible of Sonoran Desert nature literature."
New Mexico magazine
"This compendium [is] destined to become the mandatory reference for the Sonoran Desert for years to come."
The Americus Journal
". . . immaculately produced. . . . Put together by the museum's exceptional academic and curatorial staff, Natural History is a storybook, a field guide, a lay geology, paleontology, and human ecology textbook, and a handy encyclopedia - and it reads as enjoyable as fiction."
Audubon Naturalist News
". . . an authoritative introduction to the Sonoran Desert. . . . remarkably thorough . . . the one book on the Sonoran Desert I'd recommend to both novice and experienced naturalists."
Choice, G. Stevens, University of New Mexico
"This book is the next best thing to going there. . . . Though the emphasis is on the well-known and often-seen organisms of the region, the depth of coverage of those organisms is remarkable for its completeness."
Rocky Mountain News
"Everything the traveler, birdwatcher, hiker, student, desert-dweller and desert-lover will ever need to know about this region . . . is painstakingly presented in clear prose, maps and pictures."
The Sonoran Quarterly
"This book is a long, long, love letter. . . . [It] tells you just about all you can think to ask about this lush and most beautiful of America's four deserts."
Geotimes
"It is heartening to read a no-nonsense and comprehensive description of the natural history of the Sonoran Desert. . . . There is little missing in this book and much to recommend it."
Taxon
"Exquisitly produced, richly illustrated . . . definitive account of this hot desert."