Let's Explore the Desert
Family Go Guide!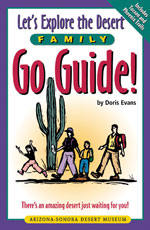 Order here
If applicable, enter your membership number or other discount code here, and click "Apply":
Not a member? Join now
Doris Evans
$14.95 New Lower Price $9.95
2001
ISBN: 1-886679-18-5
Softcover, 228 pages
8.75 x 6 inches
Description
Kids have a million questions about the desert: "Which plants are good to eat?" "Who made those tracks?" "Are those snake holes?" "How long does a saguaro live?" Now you'll have the answers!
This inviting book is intended for families that want to make the most out of their desert excursions. It begins with some basic information on how to prepare for a trip into the desert, followed by tips that assure a safe and enjoyable desert experience. Go Guide then addresses questions that the author, an environmental educator, commonly hears during her work with children. Rather than giving direct answers to these questions, she provides clues so that children can discover on their own and thereby become more aware of patterns and interrelationships found in nature.
For those of you who already have this book, we've included some additional family nature activities and suggested readings here.