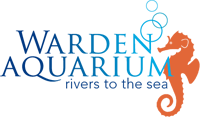 Make a Naming or Care & Feeding Gift
Through the Bert W. Martin Foundation, the Warden family has provided a permanent naming gift for the new aquarium and they are eager to partner with others who share their passion for this exhibit. Gifts to the Desert Museum for this installation will be recognized visibly as part of the Warden Aquarium. Plans to recognize major gifts include:
---
#A plaque is placed near the tank, "A gift from ____________________ "
*A plaque is placed near the tank, "Thanks to ____________________ for care and feeding for 2013". Donor family will have first right of refusal for the following year at the end of the care and feeding period.
Please specify the name you would like on the plaque: