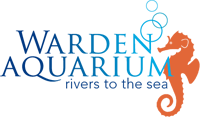 Freshwater Gallery
The Freshwater Gallery explores the rivers of the Southwest following the flow of the Colorado River into the Sea of Cortez. The journey begins with a review of the watershed of the Colorado River. This mighty river traverses 1,700 miles, drops 2 miles in elevation, and drains ~12% of the U.S. It winds its way through nine states, seven in the U.S. and two in Mexico, as it seeks the mouth of the sea.
Along the way, you will learn that in its original, forceful state, it carved the Grand Canyon, but was also variable — with low, slow waters in summer, high floods in winter and spring, and murky in color. Thus, it got its name, Colorado, which refers to its reddish color originating from red silt.
You may encounter the largest minnow in North America, the pikeminnow, bonytail chub, and other fishes with humps, lumps, and bumps, that are extremely well-adapted to these riverine conditions — highly specialized for an environment that is all but gone today.
In the Gallery, directly across from the Colorado River exhibit, visitors will experience other Sonoran Desert Rivers, including the Rio Yaqui and Rio Sonora, along with freshwater fish species that Museum staff is working to save in the wild. These include the Rio Sonoyta Pupfish, Beautiful shiner, and others. Visitors will discover that trout are, indeed, native, but now only occur in isolated, cold-water mountain streams.


Pikeminnow - Photo © Randall D. Babb