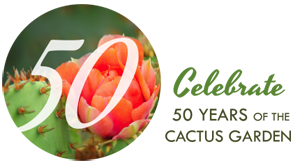 About the Cactus Garden
Dedicated in May 1965, this unique garden is named in honor of "Cactus" John Haag, (founder of the Tucson Cactus & Succulent Society) and is home to 138 species of cacti, including some from his personal collection and several rare and endangered species.
History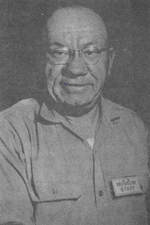 "Cactus" John Haag worked at the Arizona-Sonora Desert Museum (ASDM) as a curator of plants from 1957 to 1959. While working at the Desert Museum he noted the public's interest in cacti and other succulents and was strongly encouraged to form a club where people could talk about their prickly endeavors and learn from one another. As a result, in December of 1960, he founded the Tucson Cactus Club (now the Tucson Cactus and Succulent Society). He had a larger vision to create a Cactus Garden at the Desert Museum to help educate people about cacti and other succulent plants of the region.
Before his vision of the garden could be realized, Haag passed away on December 2, 1962. Following his death, the Tucson Cactus Club kept his vision alive and worked for the following two years creating the Cactus garden at the Desert Museum in his honor. On May 7th 1965, the Tucson Cactus Club dedicated the 'Haag Cactus Garden' in his name and 300 people showed up for the unveiling. In lieu of a ribbon cutting, a balloon at the entrance of the garden was popped using a dead agave leaf.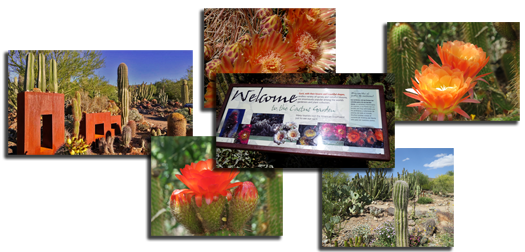 The Future - The Cactus Garden continues to grow.
Under the guidance of Jason Wiley, Desert Museum horticulturist and cactus lover, plans are in place to enhance this unique garden by adding to the collection to double the density of cacti; and enhancing shade and demonstration areas within the garden.