Bobby Goldsboro Original Oil Painting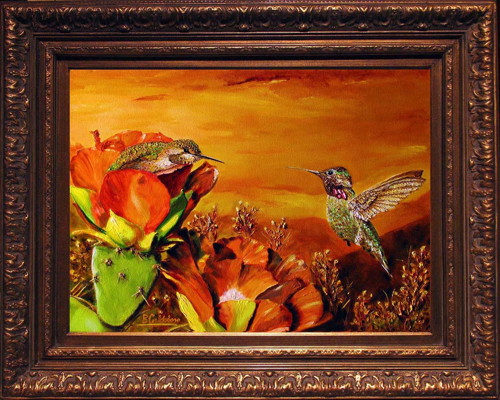 Florida-born entertainer, Bobby Goldsboro has performed before more than two billion people in his illustrious four decade career. "The Bobby Goldsboro Show" was television's highest-rated syndicated variety show in the '70s. His recordings of "Watching Scotty Grow," "Little Green Apples" and "With Pen in Hand" have become classics and his signature hit, "Honey" was the largest-selling record in the world in 1968! The five-time Grammy nominee has received countless awards as a composer and a performer, including 8 gold records and 37 BMI songwriter awards. He has sold over 35 million records worldwide.
Now, the multi-talented Goldsboro is focusing on another lifelong passion; oil painting! The self-taught artist began by traveling throughout his home state, bringing to life the ever-changing Florida landscape. He has branched out in every direction with a diverse portfolio that includes butterflies, hummingbirds and bold colorful flowers. Bobby says, "There is too much beauty in the world to stick to just one subject." His composition and use of tones and color have quickly gained Goldsboro a reputation as a world-class artist. His paintings and prints are being bought by fans and art collectors around the world.
The painting in tonight's live auction was painted specifically for The Arizona-Sonora Desert Museum's Gala. This beautiful image of a hummingbird and cactus blossom can be yours, as well as a personal inscription from the artist who will be attending this year's Gala.
Donated by Bobby Goldsboro