Bobcats in Tucson — A Study of Bobcats Living Along the Wildlands/Urban Interface
Desert Museum Annual Members Meeting 2021 Presentation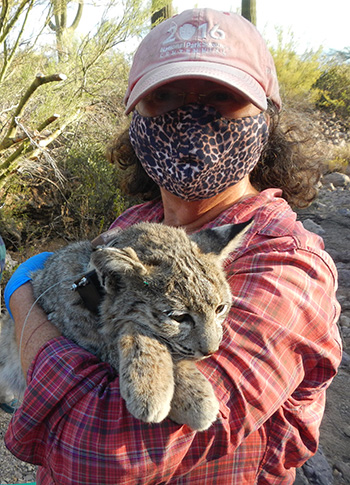 Cheryl Mollohan with Bobcat #1 Shannan
Captured near the Gates Pass area.
In 2020, Cheryl and a group of retired Arizona Game and Fish biologists were awarded a Heritage Grant from the Arizona Game and Fish Department to conduct a study in association with the Southwest Wildlife Conservation Center on bobcats living along the urban/wildlands interface of Tucson. To date, 16 urban bobcats have been captured, and 8 are wearing satellite radio collars. This program will overview the study and specifically focus on what we have learned to date from our radio collared urban bobcats. We will also highlight the status of our 5 radio collared females, all of whom had kittens this spring.
Cheryl Mollohan is a wildlife biologist with over 40 years of experience working with wildlife. While in Arizona where she started her career, she researched black bears and wild turkeys, and worked with teachers and Project WILD. Prior to returning to Arizona in 2018 after a 20 +year stint in Ohio, she taught at Hocking College in the Wildlife Resources program for 11 years, and volunteered with the Ohio Division of Wildlife on a three year bobcat study in southeastern Ohio. She is continuing work on the Allegheny Woodrat, the rarest and most endangered mammal in Ohio.