Catering and Menus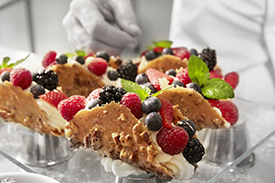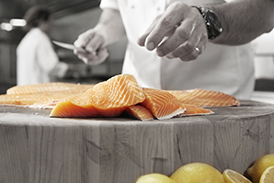 Craft Culinary Concepts is the exclusive food and beverage provider of the Arizona-Sonora Desert Museum, and specializes in creating culinary experiences and menus reflective of the Sonoran Desert region and your unique event. There are options for buffet, plated, and station style events, as well as an array of hot and cold hors d'oeuvres. Bar services include local and top shelf selections of beer, wine, and liquor, as well as hosted, partially hosted, and cash bar payment options. A $5,000 minimum applies for Saturday evening events, and $2,000 for all other evenings. There is not an option to bring in any outside food or drink (exceptions made for decorated wedding cakes with prior arrangement). Sample menus are provided below as a starting place for inspiration, but the chef and catering manager are open to customizing a menu that matches your vision, needs, and budget.
The Desert Museum Event Specialist will assist with your initial inquiry. Once event facilities have been contracted, the catering manager at Craft Culinary Concepts will serve as your main point of contact for final arrangements.
Additional catering options are available on request for large scale corporate events.
For information about catering options for tours and groups, please visit Group Visits.