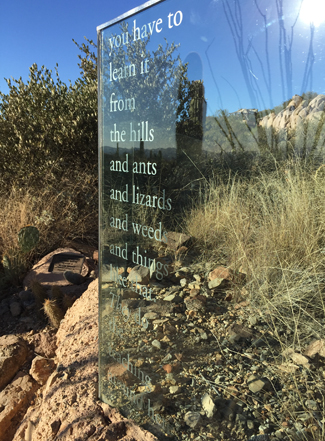 Photo by Liz Kemp
you have to
learn it
from
the hills
and ants
and lizards
and weeds
and things
like that.
They do
the
teaching
around here
Byrd Baylor has written more than twenty children's books, and she is the winner of four Caldecott Medals. Her books demonstrate a close attention to - and a deep love for - the Sonoran Desert.
"Byrd Baylor's work has inspired people of all ages to care about the desert," says Eric Magrane, ASDM Poet in Residence. "There are many ways of knowing and learning about the desert, and her brilliance reminds us to always pay attention, and to learn from all creatures with whom we share this place."
Look for Byrd Baylor's work as part of Woven Words during your next visit to the Desert Museum. The selection is from The Other Way to Listen, a 1978 book she collaborated with Peter Parnall on.