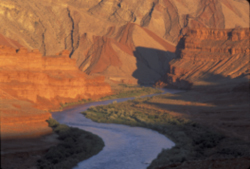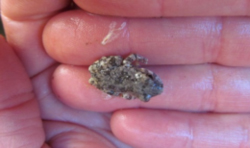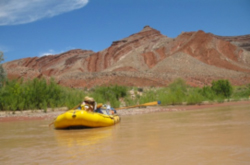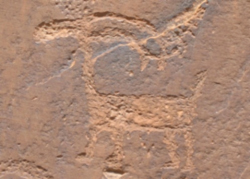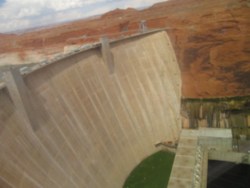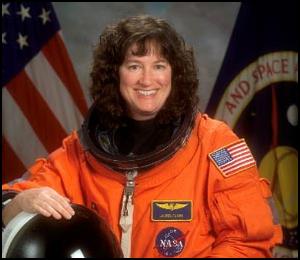 Earth Camp Adventure for Adults: Rafting the San Juan
September 15 - 22, 2014
This trip is a re-creation of the Desert Museum's annual Earth Camp summer program. Over the years many adults have asked, "Can I do this trip also?" This year we decided to make a trip just for you! Furthermore, as our previous grant funding for high school Earth Camp has ceased, we are allocating all profits from this program to the Earth Camp fund.
Earth Camp opens eyes and minds to our unique, interdependent and awe-inspiring planet, drawing connections from our homes, to our region, to the globe, and to what we can learn about Earth from space.
Conceived to honor the legacy of Columbia space shuttle astronaut Laurel Clark, the goal of all middle school and high school Earth Camp programs is to educate and inspire youth (and now adults!) to build leadership skills through experiential learning and conceptual understanding of earth processes. Earth Camp seeks to expand awareness of the interdependency of all living things, create a sense of wonder related to the Sonoran Desert and ecosystems worldwide, as well as open our eyes to the "awe-inspiring" universal perspective. Earth Camps provide hands-on ecological research experiences which encourage appreciation of using science to help people make better choices in a rapidly changing world.
The Earth Camp Adventure for Adults program will replicate many aspects of the High School Earth Camp program in which participants discuss global changes in climate, water and landscapes as well as how these changes impact sustainability issues as they explore the ecology and water resources from southern Arizona to southern Utah.
The bulk of our investigations will take place during a 4 day rafting trip down the San Juan River in southern Utah. The San Juan is the perfect venue to study the history of water resource policy, development of the West and its impacts on the flora, fauna and ecology of our region. We will gain an understanding of how turning on any faucet or light switch in the West has wide ranging impacts that can be felt from the Sea of Cortez to the headwaters of the Colorado River and its tributaries, including the San Juan River.
Traveling north from Tucson to Bluff, Utah and then on to Page, Arizona, participants will explore several distinct ecosystems as we travel up and out of the Basin and Range of the Sonoran Desert and arrive on the expansive Colorado Plateau and the Great Basin Desert. In our travels we will stop along the way to see sites of natural and cultural significance such as the Salt River Canyon, historic Mormon settlement sites in Snowflake, AZ, the Hubble Trading Post, the San Juan River, Monument Valley, and the Glen Canyon Dam.
Our lead instructors/scientists will help participates investigate, discuss and come to better understand the geology, archeology, hydrology, flora and fauna of the area. Time will be spent relaxing as you float down the San Juan's generally clam flowing current, only being interrupted by occasional small rapids and by side canyon hikes to view petroglyphs and ruins. Discussions of natural and human history and water policy culminate with a tour inside the Glen Canyon Dam and a mock debate on the pros and cons of the dam.
Price includes hotel stays, river outfitter costs (including fees & guide tips), round-trip transportation from Tucson and all entrance fees. Not included in the price are meals off of the river and your personal sleeping gear (bag, pad and tent). Gear can be rented for $20-$40 per person.
Please note: this is a field excursion which includes 4 hotel nights (2 nights before the river expedition and 2 nights after) as well as 3 nights camping under the stars (or in tents) on the river beaches. The river expedition portion of the trip is a genuine wilderness experience and participants will need to come prepared for the rigors of outdoor living and the joys and challenges that come with it; including inclement weather, insects, walking/hiking on uneven terrain and taking care of personal needs while outside.
Register online here or for more information call Sonya Norman at 520-883-3030.
About the Instructors/Scientists: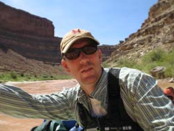 Lynn Orchard holds a Masters of Science degree in Hydrology from the University of Arizona, and a Bachelors of Science degree in Watershed Science from Utah State University, and is currently a Chief Hydrologist for the Pima County Regional Flood Control District where he has worked for the past twelve years. His main area of expertise is in flood hydrology/hydraulics and geomorphology of natural river systems, as related to natural resource management. He has directed research in a broad range of topics including riparian restoration, forest hydrology, paleoflood hydrology, flood frequency, channel response to flow regulation, floodplain evolution, sediment transport, post-fire hydrology, and instream flow requirements for native fish. He recently managed the construction of an 80-acre riparian restoration project in Pima County that included planting over 7,000 native trees. He has coordinated and supervised research in the wilderness canyons of the Green, Colorado, San Juan and White Rivers in Utah, Colorado, and Arizona. Lynn has been staff on the middle school and high school Earth Camp programs for the past 9 years and enjoys sharing his knowledge and excitement about the natural world with youth. He is an avid cyclist, a recreational kayaker and a former commercial river guide.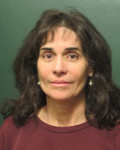 Sonya Norman has a B.S. in Geosciences from the University of Arizona and has been with the museum for 27 years. Her original position was in the Geology department, tending to mineral donations and delivering interpretive talks to visitors. She then shifted to the Education department to develop children's programs and conduct teacher training and eventually took over the management of the adult continuing education program. She is a native of Arizona and spent summers in Page as a girl, while her father worked on the construction of the Navajo Generating Station. Sustainable living, understanding energy consumption, cooking with native foods, enjoying the great outdoors are her passions. She completed one of the first neighborhood-scale rainwater harvesting projects in Tucson, and she leads the museum's buffelgrass control effort.