If you are interested in contributing your time and energy to buffelgrass control, there are a variety of ways in which you can get involved and help.
Set a good example by removing invasive species from your yard. Then encourage your neighbors and friends to do the same.
Schedule a buffelgrass presentation for your church, neighborhood or homeowner association, or other community group to learn more about what can be done. (520) 883-3008 or email the Pima County Environmental Education Department.
Volunteer at ASDM if you would like to do office work, research or help with the mapping effort.
Participate in a volunteer weed pull. Weed pulls are regularly scheduled in a variety of locations and you may join in these efforts throughout the year. List of scheduled weed pulls.
If you cannot participate in physical pulls, there is still the opportunity to foment this effort through a monetary donation.
Here at the Desert Museum we want to help you find opportunities to help save our saguaros, while also learning about the Sonoran Desert and having fun while you do it!
Why: Buffelgrass is invasive grass species that has established a strong foothold in the Tucson Basin. Buffelgrass and saguaros cannot coexist. Buffelgrass outcompetes saguaros for space, nutrients and water, slowly eliminating saguaros from the landscape. It also poses a serious fire risk, burning hot and fast. Can you spare a couple of hours to save a few saguaros or reduce the risk of catastrophic fire to our community?
How: If you are interested in volunteering, Sign Up to Volunteer and you'll be taken to a list of action events across the region. If you'd like to host a buffelgrass pull in your own neighborhood, your favorite park, or elsewhere, Register a Site, and it will be added to our list of sites for volunteers to choose from.
**Not all activities listed here are through the Arizona-Sonora Desert Museum. Each organization registering on this site takes responsibility for their own event.
Regularly Scheduled Pulls
The Sonoran Desert Weedwackers were organized in September 2000 and the Wednesday Weedwackers in February of 2007. The Weedwackers are dedicated to removing buffelgrass and other invasives from Tucson Mountain Park. They work every third Saturday of the month year-round for about three hours. A smaller group also works on the second and fourth Wednesdays of the month for about four hours.
Originally the Weedwackers were supported by the Desert Museum. Pima County began supplying van transportation, bags, tools and gloves in 2002, and, since 2005, has also been helping with publicity. The Weedwackers could not continue without the support of Pima County personnel, including Doug Siegel and others. The Arizona Native Plant Society has also supported the Weedwackers from the beginning by paying for brochures and road signs.
Average Number of Volunteers for Saturday Events:

depends on the season, 12-15 during the school year, 8-12 during the summer, 470 people on the e-list.

Average Number of Volunteers for Wednesday Events:

between 4-10 volunteers. These folks are regulars!

Meeting Time:

third Saturday and second and fourth Wednesday of each month.

Location of pulls:

Tucson Mountain Park. Initial work was carried out near the Desert Museum, and included clearing all of the washes above and below the Museum. The group then concentrated on the roadsides throughout the park. Since 2007, most of the effort has been directed towards clearing large infestations on the upper slopes of Tucson Mountains. In 2006 and 2008 much time was spent clearing a huge patch on the south face of Brown Mountain. For six months in 2007-2008 volunteers cleared the Trail's End Wash, which was completely choked with fountain grass and buffelgrass. In March of 2009 weedwackers found the wash mostly clear of invasive grasses.

The Wednesday Weedwackers climb higher and work longer. They tackle the hard spots that would be difficult for the Saturday volunteers. Since September 2007, they have been working on the south-facing slope of Bushmaster Peak. They continue to remove patches of buffelgrass from that slope.

Seven miles of washes have been monitored in Spring 2008. The washes are mostly clear of invasive grasses, verifying that manual digging has been effective.

Contacts:
Data points showing the activity of the Sonoran Desert Weedwackers (2000-2008)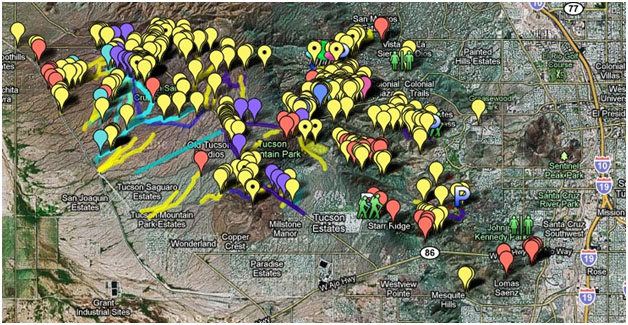 ---
Saguaro National Park (Rincon Mountain District) Weedwackers
The SNP-East Weedwackers were organized in October 2007. They have removed approximately 55 acres of buffelgrass from Saguaro National Park, contributing over 4500 hours of volunteer labor. On average, they have a turnout of approximately 12 volunteers each month, including several regulars. No experience needed. Tools and gloves are provided.
Average Number of Volunteers per Event:

8 active volunteers, with the event capped at 30 volunteers.

Meeting Time:

every second Saturday of the month (except June, July & August).

September-October 0700-1100
November-March 0800-1200
April-May 0700-1100

Location of pulls:

Our efforts are focused off trail along Cactus Forest Loop road. Additional events sponsored by local organizations are scheduled throughout the season in both the east and west districts of Saguaro National Park.

Contact:
---
Weed-Free Trails Program, Saguaro National Park
The Weeds-Free Trail Program at Saguaro National Park was organized in February of 2008. The goal of this program is to monitor the trails, mapping and removing exotic plants and fulfilling the goal of "Early Detection, Rapid Response". In 2013, twelve volunteers monitored 1,150 miles of trails and removed 11 acres of invasive vegetation, contributing approximately 1,039 hours to the volunteer program. In 2014, nineteen volunteers monitored 2,490 miles of trail, removing 24 acres of invasive vegetation, contributing approximately 2,300 hours to the volunteer program. In 2015, 25 volunteers removed 22 acres of invasive vegetation, contributing 1,605 hours to the volunteer program.
Average Number of Volunteers:

Twenty-five active individuals. In 2015, 15 interested individuals attended the 8 hour training and orientation.

Expectations of volunteers:

Volunteers must attend a training and orientation that takes place each fall (8 hours). The training will cover plant identification, GPS skills, data collection and recording, outreach, cultural issues, radio use, and safety issues. Volunteers must go out at least three times during the WFT season to remain an active volunteer in the program.

Contact:
---
The Buffel Slayers work to rid Catalina State Park of buffelgrass. They go out once per month September through May, taking a break over the summer. For a list of upcoming events see our buffelgrass pulls calendar. Events run from 8 am to noon, though it's not necessary to work the entire time. Please contact Patty Estes at estes@email.arizona.edu for more information.
---
The Coronado Foothills Weedwackers work on the 1st and 3rd Saturdays of each month. We generally work Skyline Rd., north of Skyline Rd between Campbell and Swan, and the Finger Rock wash. In the summer we start at 6:30 a.m. working for 1 1/2 hours, and in the winter at 7:00 a.m. for 2 hours. Please contact Marge at mhumph67@aol.com for exact time and location. If you have a digging bar and/or pick, bring them. Always wear sunscreen and bring gloves and water.
---
East Tucson Weed Busters
Usually scheduled on the last Saturday of the month starting at 8:00 a.m. Please contact Karla Lehmann for details — East.Tucson.Weed.Busters@gmail.com
Always wear sunscreen or a hat, and sturdy shoes. Bring water, gloves and any tool you prefer working with.
Directions:

Coming from the west: Take Craycroft Rd. heading north; turn right onto E. River Road; turn Left onto N. Tanuri Dr.; stay on Tanuri by keeping left; take the first left onto N. Calle Vista Ciudad; turn right into N. Wilmot Dr., which ends or forces a left turn onto E. Avenida Arriba. You can park by the right shoulder of N. Wilmot Dr.
Coming from the east: Take River Rd. heading west; turn right onto Tanuri Dr; continue with directions above.