Information for Professional Photographers, Filmmakers and Videographers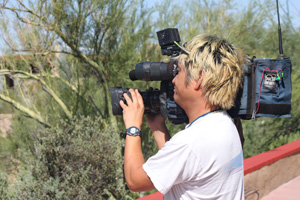 We are pleased that you have chosen to visit our museum to photographically document Sonoran Desert plants and animals. We will make every effort to cooperate with your production based upon the following information, our available resources and the mission of the Desert Museum.
Personal photography and filming on Desert Museum grounds is always permitted for non-commercial use. Professional photographers and filmmakers must obtain written permission before any production commences and may be subject to fees. Production must be scheduled in a manner that will not interfere with normal Museum operations. Written permission must be obtained from the Desert Museum to publish any images taken on Museum grounds.
In order to assist our efforts to comply with your request, please complete the worksheet below. You will be contacted by a Museum representative to coordinate and schedule production.
Please Note: The Desert Museum is in the flight path of three airports; overhead noise can cause delays. Please plan for this if your project involves sound.