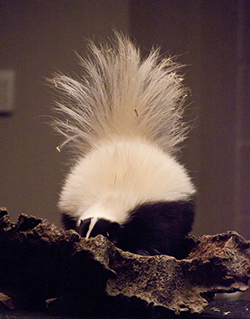 Sonoran Animal Spotlight
A Look at Mammals, Birds, and Reptiles of the Sonoran Desert Region
Come and discover the adaptation, behaviors, and ecology of animals, as well as the environments they live in, with the furry, feathered, and scaly residents of our Interpretive Animal Collection.
Sonoran Animal Spotlight is an informal presentation where you can sit and relax in an air-conditioned theater, learning fun facts and stories about a variety of animals from the Sonoran Desert Region. Shows will vary in topic and species of animals presented, and may include birds, mammals, reptiles, and/or arthropods.
This 30-45 minute presentation takes place in the Warden Oasis Theater at 12:15 p.m. on Thursdays, Fridays, and Saturdays except during other special events. Be sure to check the museum's daily event board to confirm that this exciting program will take place!