Desert Waters: From Ancient Aquifers to Modern Demands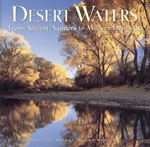 Order here
At this time, online book sales through the Desert Museum's web site have been temporarily disabled. We encourage you to visit us in person and browse our extensive book collection at our Gift Shops.
Nancy K. Laney
$4.95
$4.46 Member Price
1998
ISBN: 1886679088
Paperback: 22 pages
Dimensions: 8 x 8 inches
Description

Southwest Book of the Year (1998)
Desert Waters provides an engaging and readable look at where we get our water in the Sonoran Desert and why we are overdrawing our water "accounts." It includes lots of beautiful photos and illustrations.
About the author
Nancy Laney was once deputy director at ASDM and later, executive director of the Tucson Botanical Gardens. She is co-author of Divided Waters: Bridging the U.S.-Mexico Border, published by the University of Arizona Press.
Reviews
Awareness Journal
"Desert Waters reminds us of the magical qualities of water as it transforms the desert during periods of rain. It also presents easy-to-apply tips for water conservation, inside and outside the home."
Arizona Daily Star (Best Picks)
"A very important little book that painlessly describes Sonoran Desert aquifers and the concept of 'a water budget.' Nancy Laney explains where our present supplemented supply comes from, how earlier desert people had lived with desert seasonality and how we might enjoy the uniqueness of our area without exhausting its non-renewable water resources. Should be given to every new family moving into the Sonoran Desert."