The Women Potters of Mata Ortiz

Pottery Exhibition & Juried Show
Public Exhibition — January 26 - February 3, 2013 — 10 a.m. - 4 p.m.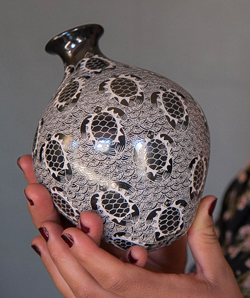 The exhibition will be the first time ever that the women potters of Mata Ortiz are featured in their own show. Over 230 women potters have been interviewed as part of the selection process for participants in the show.
Over 150 original pieces have been entered into the juried competition. The show will feature 10 primary pottery categories. Guests attending on opening night will vote for the People's Choice Award which will be revealed the next day at the public exhibition, along with "Best of Show".
All of the works will be on display and for sale throughout the exhibition dates. Many of the women potters will be on grounds on Saturday and Sunday of both weekends to talk with visitors about the creation of their works. You'll have an opportunity to meet the artists and watch demonstrations.
A book featuring many of the women participants is being produced in conjunction with the show.
For more information contact the Gift Shop at giftshop@desertmuseum.org 520-578-3008