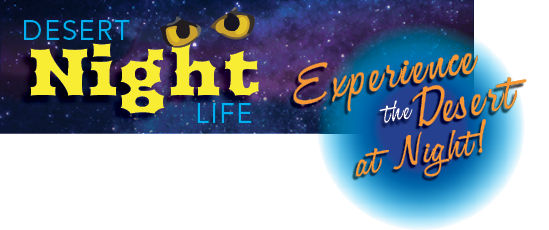 Saturday, November 15th 2014
6:00 - 10:00 p.m.
Desert Night Life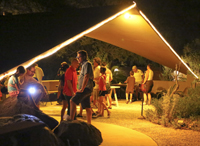 Experience the Desert Museum at night during the Fall! At Desert Night Life the museum will be open from 6:00-10:00 p.m. with night sky viewing, the Desert Museum's popular Live & (sort of) on the Loose program, special art activities and nocturnal docent interpretations for the entire family.
Visiting the desert at night is a unique experience and it's a great opportunities to view nocturnal animals, enjoy a spectacular sunset over the Avra Valley and view the night sky.
Regular public admission rates apply.
Members (including Life Members) receive reduced rates of $8 for adults/seniors/youth and $3 for ages 4-12.
Children 3 and under are FREE.
Members also receive a special holiday shopping discount at the Gift Shops.
The Ironwood Terraces Restaurant and Ocotillo Café will be open. Reservations for the Ocotillo Café are recommended. Call: 520-883-5705.
Activities Include:
6:00 - 10:00 p.m. Docent Stations on grounds

Docents will be all around grounds with animals and other interpretive stations.
All over grounds

6:00 - 9:00 p.m. Art Activities

Glow in the dark painting, holiday themed fine art painting and more!
Baldwin Education Building & Ironwood Gallery

6:30 - 7:00 p.m. Live &

(sort of)

on the Loose

This live animal presentation showcases many misunderstood desert animals including rattlesnakes, Mexican beaded lizards, and Gila monsters.
Warden Oasis Theater

6:30 - 7:15 p.m. Live Music

Degrazia and Daunis — Beth Daunis and Domingo DeGrazia have a unique chemistry as a musical duo. Beth's etheric, gypsy-esque violin melodies dance gracefully over the raw power of Domingo's Spanish-infused guitar. This team has been writing and performing together for six years, with original songs that weave in elements of flamenco, pop, gypsy-folk, classical and latin music. Domingo and Beth's stage presence is an experience in and of itself; their passion and talent leave audiences spellbound. They will be accompanied by the virtuosic percussionist, Juan Barreda, for this evening's show.
Desert Garden

7:00 - 9:30 p.m. Astronomy Telescopes

Gaze into the night skies and learn about the stars with telescopes.
Amphitheater

7:15 - 7:45 p.m. Live &

(sort of)

on the Loose

This live animal presentation showcases many misunderstood desert animals including rattlesnakes, Mexican beaded lizards, and Gila monsters.
Warden Oasis Theater

8:00 - 8:45 p.m. Live Music

Degrazia and Daunis — Beth Daunis and Domingo DeGrazia have a unique chemistry as a musical duo. Beth's etheric, gypsy-esque violin melodies dance gracefully over the raw power of Domingo's Spanish-infused guitar. This team has been writing and performing together for six years, with original songs that weave in elements of flamenco, pop, gypsy-folk, classical and latin music. Domingo and Beth's stage presence is an experience in and of itself; their passion and talent leave audiences spellbound. They will be accompanied by the virtuosic percussionist, Juan Barreda, for this evening's show.
Desert Garden

8:00 - 9:00 p.m. OSIRIS-REx: Mission to Asteroid Bennu

Learn all about the OSIRIS-REx Mission, the first US mission to return an asteroid sample to Earth. This sample will help scientists investigate planet formation and the origin of life, and the data collected will also aid our understanding of asteroids that can impact Earth.
Presented by Dr. William Boynton
Warden Oasis Theater