Bonus Cool Summer Nights!
To celebrate the start of our 70th anniversary year, we are extending Cool Summer Nights for one more weekend! Join us this Saturday (September 3) and Sunday (September 4) until 9:00 p.m. to immerse yourself into seven decades of this incredible place. The desert comes alive at night as nocturnal animals awake. Bats perform aerial acrobatics in pursuit of dinner, beavers splash around in their pond, and scorpions glow green under black light. Bring your flashlight and explore, grab a local beer and wander, experience a live animal encounter, scamper in Packrat Playhouse, feel the touch of a stingray, or participate in special nightly activities.
P.S. We encourage you to come in the late afternoon to make the most of your experience!
Exhibit Closing Times
Some exhibits close early for safety reasons or so that the animals can get some shut eye! The gardens and aviaries will close at 6:45 p.m. and the Desert Loop Trail will close at 7:00 p.m.
The Mountain House Gift Shop (near the entrance) is open until 9:00 p.m., and the Ironwood Gift Shop (near the restaurant complex) is open until 8:30 p.m.
The Ocotillo Café is open until 8:00 p.m., the Ironwood Terraces Restaurant is open until 8:30 p.m., and Phoebé's Coffee Bar is open until 9:00 p.m.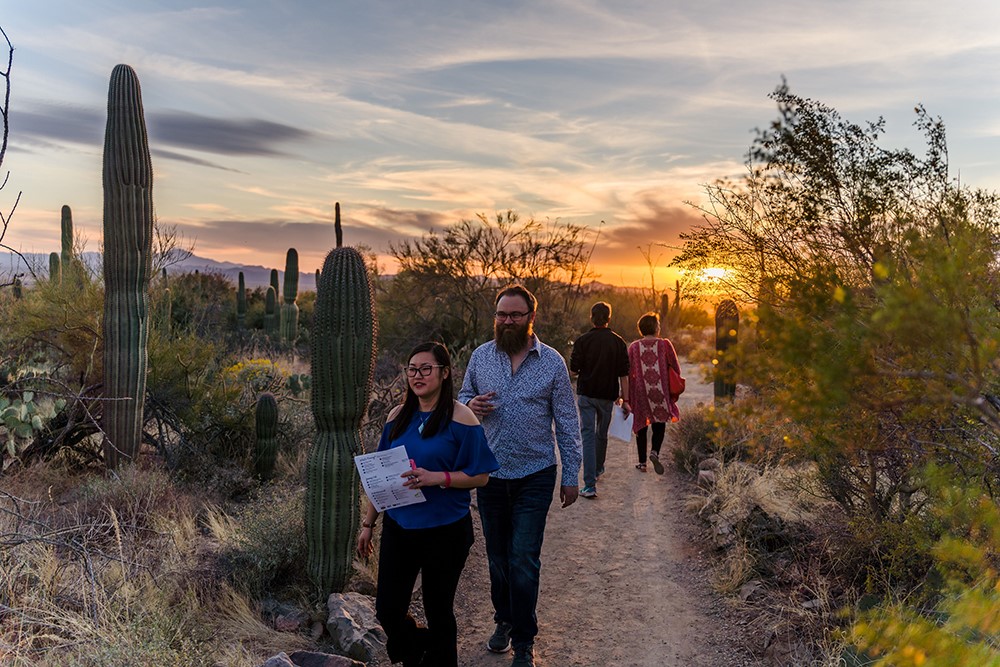 PRO TIP
Please remember: rattlesnakes are more active as it gets dark. They are important members of our natural environment but if you spot one, please alert any volunteer or staff member and maintain your distance. Make sure to be alert of where you place your hands & feet. Thank you!
Weekly Themes & Activity Schedule
Activity schedules subject to additions and changes — check back often for the latest updates!