Cool Summer Nights
Open till 9:00 p.m. on Saturdays
June 10 - August 26, 2023
The Desert Museum is lovely during the day, but it's even cooler after dark! Join us every Saturday night throughout the summer to beat the heat while learning something neat! The desert comes alive at night as nocturnal animals awake. Bats perform aerial acrobatics in pursuit of dinner, beavers splash around in their pond, and scorpions glow green under black light. Bring your flashlight and explore, grab a local beer and wander, experience a live animal encounter, scamper in Packrat Playhouse, feel the touch of a stingray, or participate in special nightly activities. See the schedule below for weekly themes.
Exhibit Closing Times
Some exhibits close early for safety reasons or so that the animals can get some shut eye! The gardens will close at 6:45 p.m., and the aviaries and the Desert Loop Trail will close at 7:00 p.m.
The Mountain House Gift Shop (near the entrance) is open until 9:00 p.m.
The Ironwood Gift Shop (near the restaurant complex) is open until 8:30 p.m.
The Ocotillo Café is open from 5:00 p.m. until 8:00 p.m. (bar open until 8:30 p.m.)
The Ironwood Terraces Restaurant is open throughout the day until 8:00 p.m.
Phoebé's Coffee Bar is open throughout the day until 9:00 p.m.
A few menu items from the Ocotillo Café
| | | | |
| --- | --- | --- | --- |
| | | | |
| (gf) Birria — Slow cooked beef on corn tortillas with pepperjack cheese, served with cilantro, onion, radish and consume for dipping | Southwest Bbq Burger — prime rib steak burger, pineapple braised pork, pepperjack cheese, red onion, and house made chipotle Dr. Pepper barbeque sauce, served on grilled bun with roasted jalapeno | Chef's Sonoran Dawg — All beef frank wrapped with applewood smoked bacon, topped with pinto beans, blended cheese, fresh salsa fresca, mustard, and charred jalapeno aioli on a fresh house baked bolillo roll | (gf) Sopes — Lightly fried masa shells, with refried beans, shredded chicken, cotija cheese, cilantro, radish, and topped with salsa verde |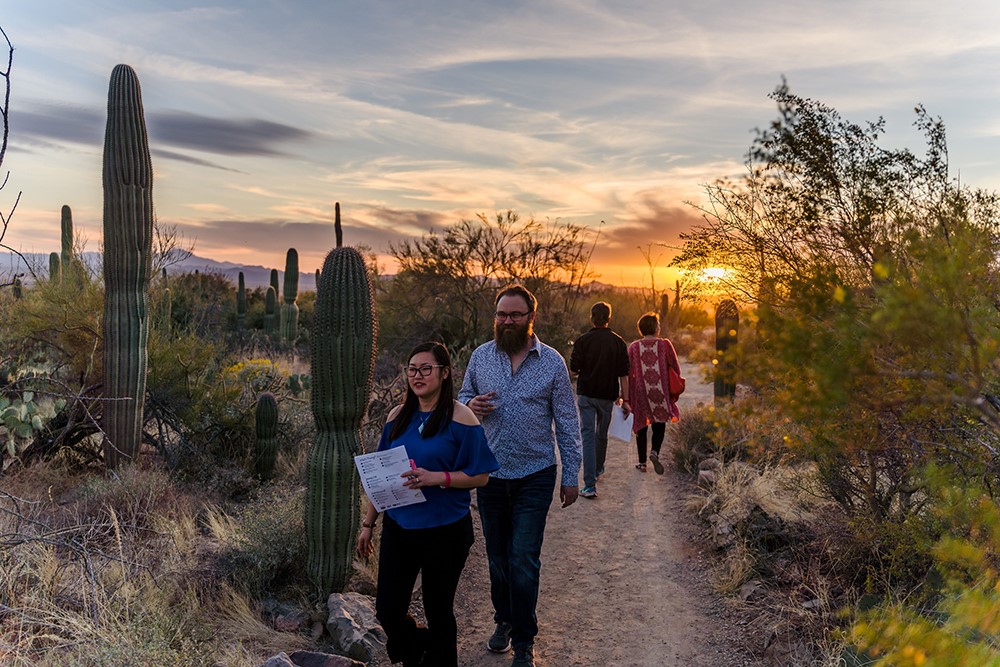 PRO TIP
Please remember: rattlesnakes are more active as it gets dark. They are important members of our natural environment but if you spot one, please alert any volunteer or staff member and maintain your distance. Make sure to be alert of where you place your hands & feet. Thank you!
Weekly Themes