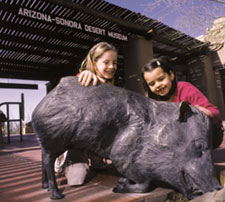 Photo by Paul S. Berquist
Thanks to the Desert Museum's Coati Kids Club we've got loads of great desert stuff just for you.
Need some facts about the Sonoran Desert? Doing research on a desert animal or plant?
The Sonoran Desert Seek & Find section has lots of answers.
Are you 6-12 years old and want to join a fun club?
the Coati Kids Club is for you!
Are you a teenager who loves the Desert Museum?
Check out the Junior Docents Program.
Want to go on a field trip with your class, scouts or other group? Even better, want to invite folks from the Desert Museum to your school?
You can sign up online in our Education Section.
Have questions about the Desert Museum or the Sonoran Desert?
Email your questions to info@desertmuseum.org and we'll try to get back to you.
Earth Day Poetry Contest
The Coati Kids Club holds a poetry contest for children grades 1-6 to write poems about the Sonoran Desert. Winners from each grade get free memberships to the kids club. You can find the latest contest details here!