Meet the Teachers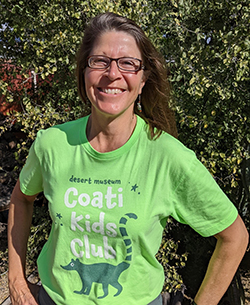 Robin Kropp (she/her) is a proud Sonoran Desert rat, shaped from birth by this amazing land. Childhood desert explorations led her to study the natural world and our connections with it. She received her B.A. from the University of Arizona in Ecology and Evolutionary Biology, Latin American Studies, and Spanish in 1990, and completed her Master's in Education with a focus on Environmental Learning in 2003. She has been an Education Specialist at the Desert Museum since 1998 where she is grateful to always learn more and to be able to share her love of nature with a wide variety of students. In addition to camps, she teaches on-site and outreach programs with our animal teachers, develops curriculum, and coordinates the Museum's Coati Kids Club program.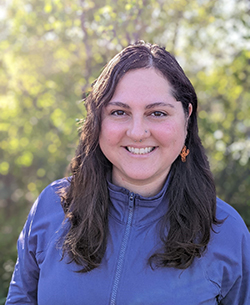 Michelle Constanza Miner is an Education Specialist with a focus in childhood nature education involving music, movement, science, art, and live animals. You can expect to find her hugging rocks, laughing too loudly, or gazing at native bees (cactus specialists are a favorite). Michelle completed a B.A. in Environmental Studies/Ecology & Evolutionary Biology at UC Santa Cruz in 2012 and a M.S. in Entomology at UC Riverside in 2018. She has worked with USGS, USFWS, and USDA on research projects including desert tortoises, threatened & endangered marsh birds, and pollinator diversity. Michelle does not like creepy crawly things… she loves them!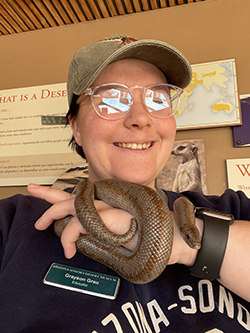 Grayson G (they/them) is an Educator for the Desert Museum. They have a Master's degree in Science Museum Studies from the Cooperstown Graduate Program in New York. After having moved across the country to Tucson, they have fallen in love with the Sonoran Desert. Grayson enjoys 3D printing, collecting rocks, and learning about animals and plants. Their ultimate goal as an educator is to bring awareness to the diversity of life surrounding us, and find new ways to make sure it's here for future generations.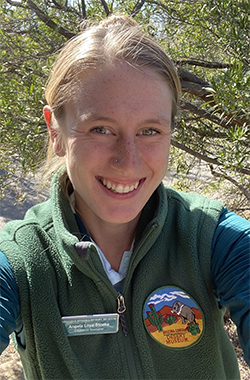 Angela Loya-Stoebe (she/her) is an Education Specialist at the Desert Museum. Born and raised in Wisconsin, Angela moved out to Tucson to study at the University of Arizona and fell in love with the Sonoran Desert. In addition to her studies at the UofA in Veterinary Science and Ecology and Evolutionary Biology, Angela studied informal science education at UCSB. Angela has worked at camps all across the country as a challenge course instructor, archery instructor, naturalist, and STEM educator. Angela also leads guided hikes, mountain biking rides and climbing experiences. Angela has a passion for exploring the natural world alongside youth by making discovery accessible and exciting for all!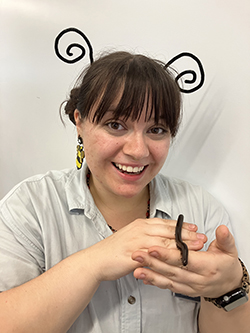 Kyleigh Sacco (she/they)  aspires to create a safe space for everyone to explore! Having lived in southern Arizona all her life, she is a desert rat through-and-through. She attended the University of Arizona earning a B.A. in theatre arts (minor in anthropology) and a B.S. in natural resources (emphasis in global change) - which is a fancy way of saying that she spent most of her college career making funny faces, talking to native plants, and hoping for a better future. Through some experimentation as a teaching artist, invasive plant identifier, and school gardener she has found her focus - the way that people interact with the outdoors. As an Education Specialist at the Arizona-Sonora Desert Museum she hopes to encourage people to find their own unique way to connect and engage with the beautiful Sonoran Desert. Everyone deserves a spot in the patchwork of this amazing and diverse place.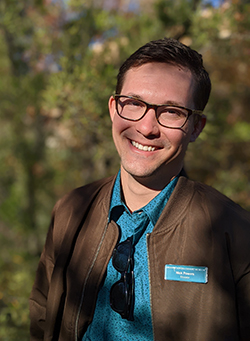 Nick Powers (he/him) spent his youth running around in the wash, and he never really stopped. Even now, Nick is always hiking, running, and exploring the desert with his dog, Bella. Nick went to the University of Arizona, where he learned about bugs, brains, robots, and history, getting his degree in Neuroscience in 2019. Nowadays, when he's not exploring or cleaning up the river, Nick spends his time educating at the Arizona-Sonora Desert Museum. He believes that learning and curiosity can lead to respect, and respect will lead to a better world!