Packrat Playhouse Rentals
Note: Reservations for Packrat Playhouse Rentals are temporarily suspended.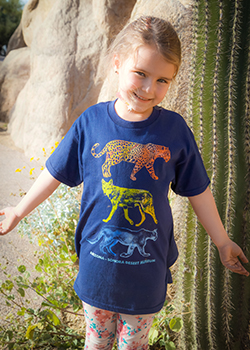 Photo: Jason Blake Photography
Slink, swoop, or scamper to the Desert Museum for an unforgettable adventure in Packrat Playhouse! Rent the entire Playhouse for your family group, quaranteam, social bubble, youth group, or company retreat. Beat the heat of the summer and play like a packrat!
Playhouse Rental includes:
Museum admission for up to 15 people
Exclusive time in the air-conditioned Playhouse
Ability to bring food, drinks, or decor to add to your experience
Time to learn about Sonoran Desert animals and plants — through play!
Amenities include picnic tables, WiFi, and family restrooms
Playhouse rentals are available on Tuesdays, Thursdays, and Saturdays from 10:00 a.m. to noon. Party size is limited to 15 people (excluding those under 2 years of age).
Pricing
Tuesday & Thursday — $399 Non-members/ $359 Museum members
Saturday — $459 Non-members / $419 Museum members
The rules:

Masks are required for all guests, including children, when indoors and when not physically distanced from others not in one's party.
Only 15 people total will be allowed into the Playhouse. If your group has more than 15 people, you cannot 'switch out' people.
Two adults must stay in the Playhouse to help supervise children at all times, and are included in the 15 person gathering size.
The rental is from 10:00am-noon. You and your group are welcome to come and go from the Playhouse during that time, but it will not extend the rental time. Playhouse closes promptly at noon.
You are permitted to bring food and non-alcoholic drinks for your party/playdate. You must provide all plates, napkins, cups, and utensils (for maximum personalization!). Staff is not available to cut or serve cake. The Desert Museum is not able to store a cake or other supplies before or after your rental time.
Your group is responsible for providing, transporting, setting up, and cleaning up all decor and within the rental time. No balloons, noisemakers, poppers, glitter, or toy weapons are allowed on Museum grounds.