Native fish, frogs, snakes, and turtles
Tarahumara Frogs Return to Pajarito Mountains After 40-year Absence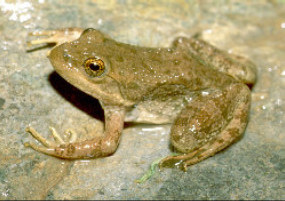 Photo: R. D. Bartlett from east of Yécora.
For over 20 years, the Desert Museum has partnered with the Arizona Game and Fish Department in efforts to breed and repatriate Tarahumara frogs (Lithobates tarahumarae) which were extirpated from Arizona in the 1980s. Suspected causes for their decline and disappearance include chytridiomycosis (a fungal disease), introduced predators, airborne emissions from copper smelters, flooding and winter cold.
Tarahumara frogs originally were known to exist in only three mountain ranges in Arizona — the Santa Rita, Tumacacori and Pajarito mountains. These frogs are highly aquatic and require permanent pools of water for their larval and adult stages. They prefer boulder-strewn streams and seasonal streams with bedrock and deep, drought-resistant plunge pools.
Tarahumara frogs are a medium-sized frog that grows to up to 4½ inches. They are greenish-brown with small dark spots on their bodies. In anticipation of this reintroduction effort, the Desert Museum revived its genetic pool of frogs with tadpoles, collected from Yecora, Sonora, Mexico. The breeding collection has been housed at the Museum and successfully propagated for many years. By utilizing an indoor fish facility, as opposed to an outdoor one, the Museum was able to substantially increase the area dedicated to tadpole propagation. The tadpoles were fed a diet of frozen collard greens, sliced zucchini, hardboiled egg whites and algae wafers which resulted in the rapid development of froglets.
On October 20, 2014, the latest release of frogs from this captive breeding program hopped into their new home in southern Arizona's Pajarito Mountains. The recovery project enabled about 800 frogs reared at the Museum to be backpacked into a remote canyon where they were released. Prior to release, the frogs were assessed for pathogens to prevent the spread of disease. The results came back negative for chytridiomycosis, an infectious amphibian disease that has accounted for at least a 30% decline in amphibian populations worldwide.
Reestablishing a population in the Parjaritos repatriates the frogs to two of their original three historical mountain ranges. Frogs have also been repatriated to the Santa Rita Mountains. If successful, this release will prevent the need for continued protection under the Endangered Species Act. The goal is to increase the wild populations to a level robust enough so that the frogs will become self-sustaining and no longer require management.
The released frogs will be monitored by biologists regularly over the next several years. In addition, the population may be augmented with additional frogs until it is determined that the population has become well established in the canyon.
Mexican Garter Snake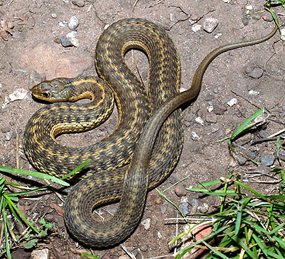 © 2006 Gary Nafis
ASDM Sonoran Desert Digital Library
A variety of factors, including interactions with nonnative bullfrogs, crayfish, and spiny-rayed fish, along with human activities that have degraded riparian vegetation, have led to drastic declines in Mexican garter snake populations. So that we might avoid entirely losing this federally listed species in the U.S., a captive breeding program was developed at the Arizona-Sonora Desert Museum, wherein progeny produced at the Museum are released into former habitat. Biologists hope that such efforts will help re-establish Arizona populations of this beautiful snake.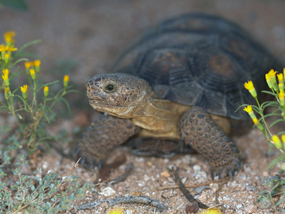 © 2007 Rhonda Spencer
ASDM Sonoran Desert Digital Library
The Arizona-Sonora Desert Museum (ASDM) established the Tortoise Adoption Program (TAP) to benefit the welfare of captive and wild tortoises and turtles. The program is sanctioned by the Arizona Game and Fish Department and designed to assist with the transfer of unwanted or surplus captive desert tortoises to qualified private custodians.