Saltwater Gallery
As you stroll through the Freshwater Gallery, you'll notice a transition to a marine environment. Here you'll get a glimpse of mangroves in brackish water, in which you can watch Barred flagtails and Fantail pipefish maneuver among the long, exposed roots of these fabulous trees.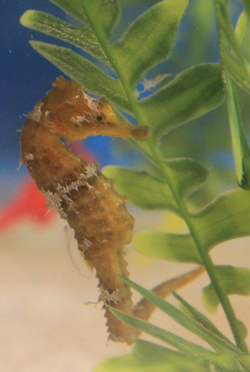 Next you'll be fascinated by a group of fossorial garden eels that rise up from and disappear into a deep bed of sand as they compete with each other for meals and other fish species, such as hawkfish and King angelfish. As enter the Saltwater Gallery, you'll be mesmerized watching a group of Seahorses majestically grasping vegetation, hovering or gently propelling themselves from one spot to another.
Subsequently, you'll discover a variety of marine fishes, including frogfish, lionfish, and moray eels. A massive, life-size model of a manta ray hovers above as you marvel at the diversity of fishes found in the rocky Cabo Pulmo coral reef. In this tank you will find almost a dozen species of fishes, including the stunning Cortez angelfish.
Other Links

Mexican lookdown - Photo © Liz Kemp