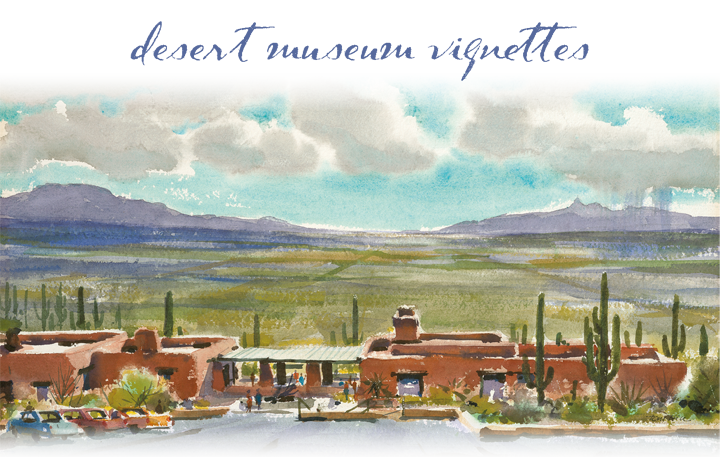 Arthur & Phoebe Pack
'He (Arthur Pack) was deeply committed to conservation — and I think he felt it was more than a responsibility, but a duty.' — Mark Bahti, Arthur Pack's grandson and former ASDM board member
Arthur Newton Pack, co-founder with William 'Bill' H. Carr, of the Arizona-Sonora Desert Museum, was born in Cleveland, Ohio in 1893. He graduated from Williams College and Harvard University, served in the U.S. Army in World War I, and later became editor of Nature Magazine . He moved west in 1933 for his daughter's health where he purchased and developed Ghost Ranch in New Mexico. In 1946, he moved his family to Tucson where he established Ghost Ranch Lodge. Arthur and his wife, Phoebe, were active community members, donating time and money to many institutions in Tucson and New Mexico including museums, churches and hospitals. For sixteen years, Arthur served as President of the Desert Museum's Board of Trustees. He was named co-founder Emeritus of the Museum and, in 1952 was Tucson's 'Man of the Year.'
Who was Arthur Pack? He was a philanthropist, a rancher, an innkeeper, a writer and editor, an avid pilot, a deeply spiritual man with close ties to the Presbyterian Church, a father and a grandfather. And he was a conservationist.
Arthur and his three brothers and sisters were raised in a privileged household but one that valued personal, ecological and social responsibility, where people respected the environment and appreciated that they were in a relationship with the land and the animals and plants therein.
Arthur Pack along with his wife Phoebe Finley Pack were described as 'quiet doers.' By the time of his death on December 6th, 1975, Mr. and Mrs. Pack had contributed over $500,000 (or over $2 million in 2015 dollars) to the development of the Arizona-Sonora Desert Museum. The museum's original 'Tunnel in the Desert' exposition and the way-before-its-time Water Street were the direct result of Arthur Pack's significant contributions to the Desert Museum.
'Arthur Pack was a leader in two ways. He was always ready to stand up for his views and back them up with his philanthropy' — Bill Carr
As Congressman Morris Udall stated, 'If I could wish one blessing for each community, I would ask that each be blessed with at least one Arthur Pack.'
Bill Carr described Arthur Pack's generosity: 'Having been born with a silver spoon, he used it to feed others as well as himself. . .Arthur Pack was a leader in two ways. He was always ready to stand up for his views and to back them up with his philanthropy.' And in a memorial tribute to his good friend of a quarter-century, and invaluable aide in museum establishment, Bill Carr wrote, 'Arthur preferred to call a spade a shovel, indicating that he thought the word spade was effete and shovel fit the bill more accurately. He was capable of arguing strenuously in support of his own philosophy about various civic ventures that had to do with the welfare of people or the land. One might say he practiced what he preached, but the truth is that he didn't preach-he just practiced.'
'February, 1952. After lunch Arthur, Bill Carr and I drove out to Tucson Mountain Park. That Mountain House is going to make a beautiful museum. Arthur got funds for it from the Pack Forestry Foundation. Bill Carr is going to build it.' — Phoebe Pack, diary entry.
As Arthur Pack described the Desert Museum: 'What began as a local Tucson project astonished everyone by becoming in that short interval an institution of national and even international influence. The thousands of tourists who came every winter to Tucson found in it the long sought answer to the question of interpreting the living desert so that it could be understood and appreciated. Car licenses from every state in the Union and the Canadian provinces appeared in the parking lots. Not least of all were the cars from nearby Mexico; for the Sonoran Desert, which the museum seeks to interpret, extends deeply into that country and both plant and animal life are shared by the two nations. Leading citizens of the Mexican State of Sonora became interested, and the original title of the project was changed to Arizona-Sonora Desert Museum. ' — Arthur Pack, Ghost Ranch
Sources: Ghost Ranch, Phoebe Pack diary entry, ASDM Oral History Archives, Pebbles in Your Shoes