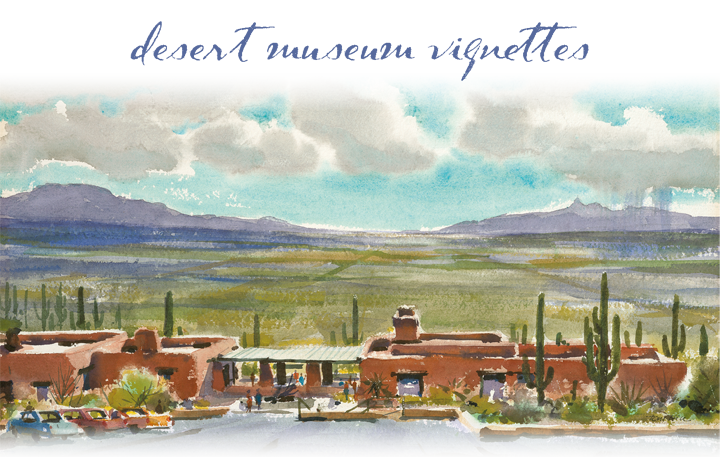 ASDM and the Youth Effect!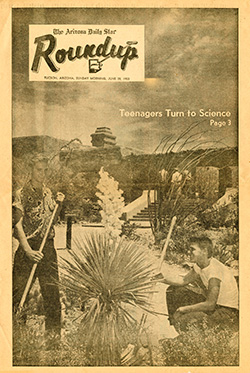 Arizona Daily Star — Roundup — Teenagers Turn To Science by Leo Della Betta, June 28, 1953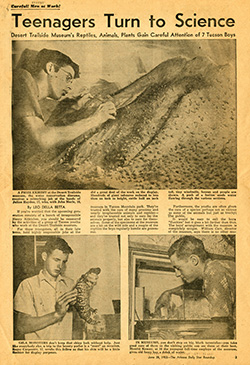 'Teenagers Turn to Science' article — first page
'Teenagers Turn to Science' article — second page
A professor of zoology at San Diego State University
A recognized marine biologist and professor at the University of California – Santa Cruz
A decorated member of the U.S. Army Intelligence community
A prominent commercial, industrial designer – who wrote a thesis on Zoo Habitats!
And today, a member of the Arizona House of Representatives.
The common link? As youth, they spent time learning about natural history at the Arizona-Sonora Desert Museum.
---
Young people have long held a valued place at the Desert Museum. In Pebbles in Our Shoes, William H. ('Bill') Carr talked about early work at the Museum, teaching us who forged the Museum's early footpaths:
'Our two high school lads, John Pearse and Don Koehler, were helping with the muscle work. I gathered these boys on our first morning at work, and simply said, "All right, I'm going to draw some lines on the ground. You just follow along with a rake and shovel and clear a path where I've marked."
So saying, I took up a sharp stick, glanced around the grounds, which by now were familiar to me down to their last shrub, and pointed my rear generally southeast. Starting from just below the patio, where the steps were to decline into the desert pathways, I backed clockwise around the perimeter, leaving the line scratched in the ground. Thus the shopworn jest that the Desert Museum started from scratch or that it was begun backwards. No matter, it did get started that memorable morning.
Within a short time my pair of eager helpers had scraped and pruned this first pathway into a level, unobstructed passage, and it was lovely in its promise.
--- My hope – and my intent regarding the Museum – has always been that many other young people --- would find knowledge and inspiration, if not a professional career, in the close association with the outdoors our Museum would provide. Our successes along the way have been numbered by this scale, and it is heartening to recall the troops of youths whose acquaintance with the desert – and themselves – has been improved by our association.'
---
And so it began –
As two of the early teen pioneers expressed it –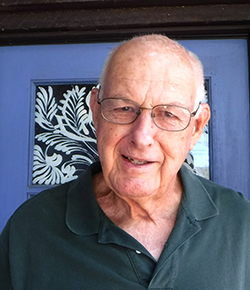 Roger Carpenter - 2018
Working at the Museum was great!  Lots of fun. I liked my coworkers (there were nearly a dozen!) I didn't mind any task, including cleaning the two restrooms, or taking all the trash and animal refuse up to the area behind the Ranger's (Joe Carrither's) house to burn it. And cleaning most of the animal cages (some exceptions) brought us in close contact with the bobcats, javelinas, etc. – Roger Carpenter, 2019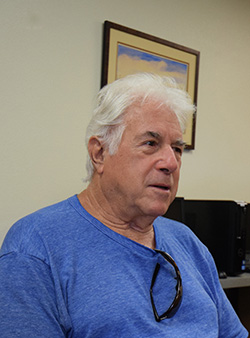 Harvey Goldson - 2016
Some of my best memories in my life were working at the Desert Museum – both working with staff and because of the great fauna. I was part of the weekend staff and was responsible for cleaning and feeding the animals with scales, feathers and fur … and the insects. – Harvey Goldson, 2019
---
Today, the Museum continues to celebrate youth involvement through a variety of programs.
The Junior Docent Program educates teen volunteers (ages 13-18) about natural history and trains them to engage with Museum guests, sharing natural history and conservation stories.
Since 1995, this program has served over 500 teens. The primary job of a Junior Docent is to teach museum visitors about the natural history of the Sonoran Desert region, but it also helps them to acquire life and study skills that prepare them for college and careers. They practice problem solving, strengthen communication skills and learn the value of collaboration with others, all while building self-confidence and public speaking skills. Junior Docents receive comprehensive training on the Sonoran Desert Region's plants, animals, geology and ecology, but also learn how to share it with others.
In recent interviews, Junior Docents shared their views of the Junior Docent Program, the Museum, and their Museum family:
From Alexander Pye – 'The Junior Docent Program taught me public speaking skills and gave me confidence in working with the public. It taught me the value of team work. The program teaches you so much about the Sonoran Desert and how to prepare yourself for life ahead. It gives you the ability to carry your skills forward when you leave the Junior Docent program.'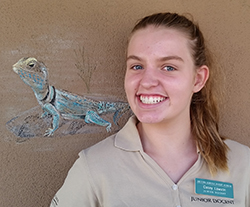 Cassandra 'Casey' Lawson - 2019
From Cassandra 'Casey' Lawson – 'If I were writing a book about the Museum, my theme would be, the community around it -- the people that have built up this Museum, what's made it what it is today. Their support and dedication to the Museum and the personal stories of these people have made it a really beautiful and diverse and interesting place to visit.'
Mariah Joseph - 2019
From Mariah Joseph – 'As Junior Docents, our biggest responsibility is how we represent the Museum as a whole and how we show respect for the institution that it is.'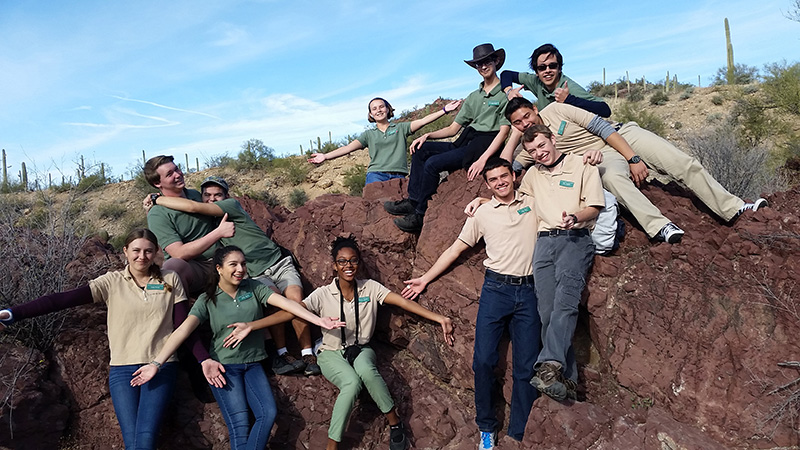 Junior Docents – 2017
The Museum has programs for youth of all ages. Many experience the Desert Museum for the first time on school field trips. The Museum hosts approximately 20,000 students on field trips each year, and sees another 10,000 during community outreach programs. The Museum even has a special membership program for kids called the Coati Kids Club, which is celebrating almost 25 years. Summer camps are another Museum offering, with programs including Museum Explorers (1st – 6th grades), and Colors of Nature (5th – 7th grades). Earth Camp, started in 2005, focuses on ages 13 – 15 year olds and allows participants to experience science outside the laboratory. Authentic field research allows students hands-on experience in learning about the natural world and developing a passion to preserve and protect it.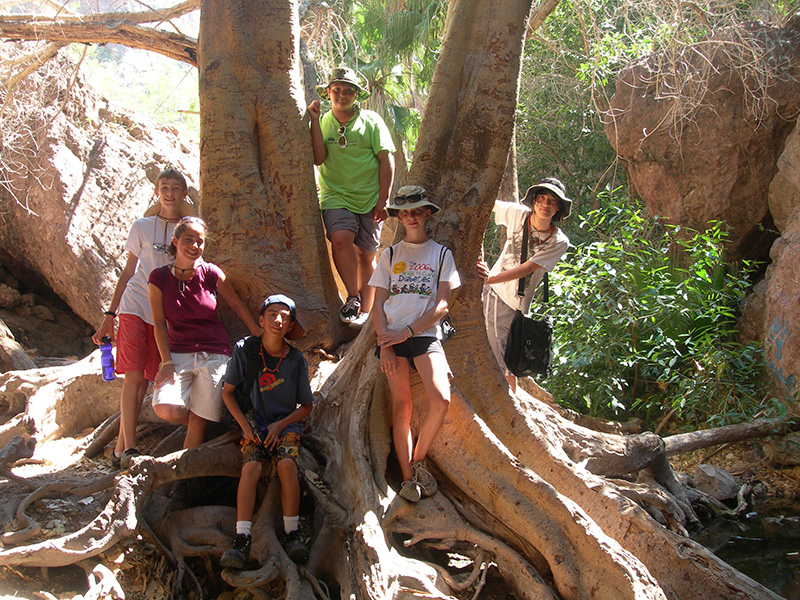 Earth Camp, 2008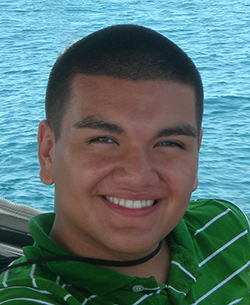 State Representative Andrés Cano - 2007
Quoting State Representative Andrés Cano in 2019 – 'Ten years ago, Earth Camp taught me to love, honor, and respect the world around us.  Today, at age 27, I'm standing up for Arizona's natural resources in the Arizona House of Representatives.'
Debbie Colodner, ASDM's Conservation Education & Science Director observed, 'The Desert Museum's youth programs are an investment in our community, helping to create citizens who can succeed in college and a wide variety of careers, as well as provide leadership for a more sustainable future.'
Once again, Bill Carr proved to be a visionary for Southern Arizona and the Arizona-Sonora Desert Museum.
---
And those cited in the Introduction?
Roger Carpenter, Ph.D., Tucson, AZ – Worked at ASDM from 1953 to 1957
John Pearse, Ph.D. – Santa Cruz, CA – Worked at ASDM from 1952 to 1954
Harvey Goldson – Littleton, CO – Worked at ASDM from 1956 to 1966
Don Koehler – Worked at ASDM from 1952 to 1955
Andrés Cano, Arizona House of Representatives – Tucson/Phoenix – Attended ASDM Earth Camp, 2007
---
Notes: Junior Docents Alexander Pye, Mariah Joseph, Cassandra 'Casey' Lawson were interviewed for this vignette. Amy Orchard, Desert Museum Program Specialist, contributed to the vignette. The vignette was produced by Anne C. Warner.
Newspaper scans courtesy of Arizona Daily Star – Roundup, Teenagers Turn To Science, by Leo Della Betta -- June 28, 1953