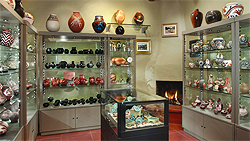 Gift Shops at the Desert Museum
The Mountain House Gift Shop is open from 9:00 a.m. to 5:00 p.m. (until 10:00 p.m. during Cool Summer Nights)
The Ironwood Gift Shop is open seasonally. Hours vary.
When you visit the Desert Museum, take time to explore the interesting and unique Gift Shops, the best one stop shopping spot in Tucson. We offer a wide array of merchandise in each of our stores from exclusive custom souvenirs to regional crafts and foods, including ASDM logo items and local Native American arts and crafts.
The Mountain House Gift Shop is located near the main entrance area, featuring Native American crafts from Arizona, New Mexico and Mexico. The displays of traditional southwestern jewelry shine alongside the newer contemporary styles. In addition, there is a fine selection of books on the human and natural history of the area, including all of the Museum's own ASDM Press. Children will find their own book selection, as well as toys to remind them of some of the animals they have met here.
The Ironwood Gift Shop is located near the highly acclaimed Ocotillo Café. This colorful southwestern boutique celebrates the work of local artists, including vibrant screen printed apparel by Tucson designer Nancy Lenches-Alegret; as well as coordinating scarves, hats and handbags. There is also a wonderful variety of handcrafted and one of a kind items from all over the world including designer jewelry, fair trade and recycled/green products, plush animals, books, fossils and minerals.
Contact us! Email giftshop@desertmuseum.org or call 520-578-3008