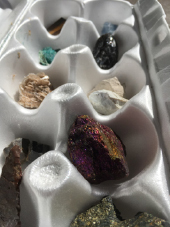 Mineral Madness Sale and Family Fun
Saturday, January 19, 2019 — 10:00 a.m. to 4:00 p.m.
Sunday, January 20, 2019 — 10:00 a.m. to 4:00 p.m.
Monday, January 21, 2019 — 10:00 a.m. to 3:00 p.m.
Members' Preview
Thursday, January 17, 2019 — 5:00 p.m. to 7:00 p.m.
Dig into the rockin' world of minerals with fun hands-on activities for families. Shop for your own mineral and fossil treasures at rock-bottom prices! Thousands of mineral specimens for sale for the novice to the serious collector. The sale showcases Arizona, New Mexico and Mexico minerals with a selection of minerals and fossils from around the world as well. Bargain hunters will find specimens for as little as 50 cents!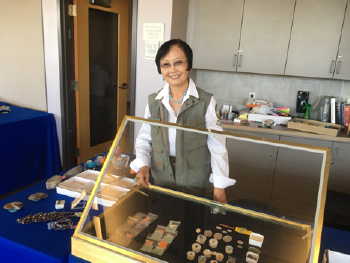 Specials at the sale this year:
New gem stone donations
Fluorescent minerals
Quartz crystals and chalcedony
Fossilized Shark Poop (Coprolites)
"Decorator" Rock
During the weekend you can visit geology and fossil activity stations around the Museum grounds, where children can collect a free rock or mineral specimen in their own egg-carton collection box.
Rock Readings!
Saturday and Sunday 1:00 to 3:00 p.m., Monday 1:00 to 2:00 p.m.
Do you or someone in your family like to collect rocks or minerals? Do you have some that mystify you? Every specimen has a story to tell. Bring in one, and learn from our Curator — what it's called, how it formed, and why it's special. We'll help you build a story around your treasure.