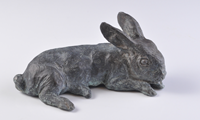 Buy direct from ASDM
Mark Rossi Cast Bronze Sculpture - Cottontail Rabbit Weanling
$210.00
(Plus $12.65 S&H via USPS - U.S. shipping only)
Cast-bronze. Weight: 1 pound, 14 ounces
Dimensions: 2¼" high x 5" long x 2⅝" wide
Artist Statement: "The very first life-size piece I did was a cottontail rabbit weanling my son rescued from a ranch cat, He brought it up to the house in his hand and put it in a box, and I immediately started sculpting it. We nursed it to health and let it go, so I always have that experience in my memory and it connects to every piece I do."
These unique pieces are available only online through the Arizona-Sonora Desert Museum. Limited quantities available.
Created exclusively for the Arizona-Sonora Desert Museum, these bronze statues by renowned sculptor Mark Rossi capture the beauty of nature with precision and detail, and are small enough to hold in the palm of your hand.
"The thing I like about these pieces is that they are life-size animals that can be found in nature in the Sonoran Desert," shares Rossi. "I wanted to create something that would make nature more accessible, just as it is at the Desert Museum. To me, the great work of the Museum is giving people an immediate experience to learn about the Sonoran Desert, I like to do things that give people an experience. Through these sculptures, people can imagine holding a hummingbird or a cottontail rabbit and there's a kind of poetic translation that adds to that person's experience. It's ideal that people can touch and hold these pieces."
Each sculpture is unique and created using the lost wax method. "These aren't just stamped out," Rossi explains, "every one is retooled by hand."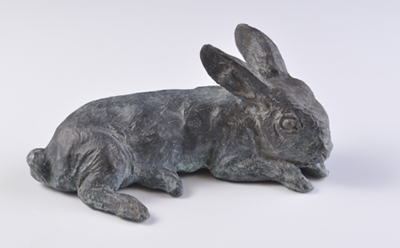 Rossi's sculptures are in private and public collections internationally and can be seen on the grounds of the Desert Museum.
All proceeds support the Arizona-Sonora Desert Museum's education and conservation programs. Thank you for your purchase!