Research and Conservation in Southern Sonora, Mexico
(South of Yécora, focused on Alamos)
Research Opportunities

The old cathedral in Alamos, Sonora. Photo: T.R. Van Devender
Alamos is the northern gateway to the New World tropics, an opportunity to experience and study the tropical dry season, the overwhelming diversity of the lush summer monsoon forest, rampant vines, lianas, epiphytes, and fascinating tropical animals in northwestern Mexico. The largest areas of remaining tropical deciduous forest (TDF) left on the western coast of Mexico are in Sonora (Martin et al. 1998). Other areas of TDF to the south in Sinaloa , though with supporting higher species diversity , are small areas in very inaccessible places, often with active threats to the resources and/or dangerous situations related to the drug trade. In Sonora, intact TDF reaches the Yécora-Onavas vicinity at 28°33'N latitude, and in isolated ranges west of the Río Yaqui as far north as the Sierra San Javier at 28°38'N. To the north there is a broad transition into foothills thornscrub (FTS), and then into Chihuahuan desertscrub, desert grassland, and oak woodland in the more temperate areas of northeastern Sonora. West of San Javier, TDF and FTS grade into the Plains of Sonora subdivision of the Sonoran Desert in central Sonora.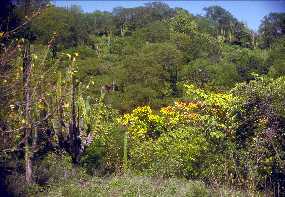 Photo: Mark Dimmitt
Gentry (1982) called TDF in Sonora first "short tree forest" and later "Sinaloan tropical deciduous forest". Today, it is simply called tropical deciduous forest (or tropical dry forest) in realization that it is a distinct northern vegetation type different from TDF in Sinaloa and more southerly areas. In southern Sinaloa, Nayarit, and Jalisco, TDF can have various dominants and mauto (Lysiloma divaricatum) is less important than it is in southern Sonora. Rainfall is biseasonal with a strong summer monsoon and a lesser, but significant, winter rainy season separated by spring and fall dry seasons. (The fall is sometimes moist when rains from Pacific and Gulf of California tropical storms and hurricanes bridge the monsoon and winter rainy seasons.) The winter frontal storms that originate in the Pacific Ocean reach their southern limits in the Alamos area. Although the climate of TDF is generally thought to be frost-free, there are rare freezes in much of Alamos southern Sonora . This gives Sonoran TDF a different climatic regime than TDF elsewhere. Although most of the dominant trees in TDF in Sonora are widespread species that reach Central and South America, recent research by Desert Museum staff and associates indicates that the same trees flower at different times in Sonora and likely have different pollinators.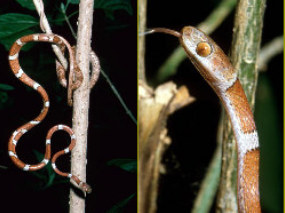 Imantodes gemmistratus. Photos: C. R. Schwalbe
The flora and fauna of Sonoran TDF are diverse. Amazon parrots (Amazona albifrons, A. finschi), black-throated magpie jays (Calocitta formosa colliei), military macaws (Ara militaris), blue mockingbirds (Melanotis caerulescens), and many other tropical b irds are present, and long-distance migrants pass through or winter in the area (Russell 2000). Tropical mammals including the grayish mouse opossum/tlacuachito (Marmosa canescens), painted spiny pocket mouse (Liomys pictus), vampire bat (Desmodus rotundus), and nine-banded armadillo (Dasypus novemcinctu) reach their northern limits in TDF in southern Sonora (Schwalbe and Lowe 2000). Amphibians and reptiles reaching their northern range limits in TDF include the Mexican treefrog (Smilisca baudini), the painted wood turtle (Rhinoclemmys pulcherrima), Mexican beaded lizard/escorpión (Heloderma horridum), bluntheaded tree snake (Imantodes gemmistratus), Pacific Coast parrot snake (Leptophis diplotropis), and the pichecuate (Agkistrodon bilineatus; Schwalbe and Lowe 2000). The tropical insect fauna is very diverse but has been scarcely studied.
Previous Research in the Area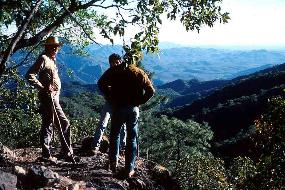 Paul Martin at the head of Arroyo Santa Bárbara. Photo: G.M. Ferguson
Although biologists have been visiting the Alamos area for more than a century, there are only a few baseline floras and faunas and few quantitative studies in TDF. In 1890, Edward Rose collected plants including 43 new species, an amazing 18.9% of his 227 collections (Rose 1891). Gentry (1942) and Martin et al. (1998) surveyed the flora of the broad Río Mayo Region in southern Sonora from the Sinaloan border (Río Fuerte drainage) north to the Río Yaqui and reported 2,825 taxa. The only intensive local flora in TDF in southern Sonora was for a 26 miles (42 km) stretch of the Río Cuchujaqui, yielding 740 taxa in an area of 8.1 mi² (21 km ²); Van Devender et al. 2000).
Only a few highways cross the Sierra Madre Occidental. The best known are Mexico Federal Highway (MEX) 40 between Mazatlán, Sinaloa, and Cd. Durango, and MEX 2 along the U. S. border between Agua Prieta, Sonora, and Janos, Chihuahua. In 1992 MEX 16 was completed connecting Hermosillo, Sonora, and Cd. Chihuahua, and provided new access to the Sierra Madre (Búrquez et al. 1992). MEX 16 rises from 650 ft (200 m) elevation near Tónichi on the Río Yaqui to 6,230 ft (1,900 m) above Yécora, providing a transect through tropical foothills thornscrub and TDF to montane woodlands, forests, and grasslands. Since 1995, Tom Van Devender and Ana Lilia Reina at the Museum have been surveying the flora of the Yécora area about 90 miles (150 km) north of Alamos. With more than 1,725 plant taxa in an area of 1275 mi² (3300 km²), it is one of the biodiversity hotspots in Mexico. The diversity and distribution of grasses in the Yécora area was presented in Van Devender, Reeder et al. (2005), and the hummingbird food plant resources were summarized in Van Devender, Calder et al. (2004).
Gentry (1942), Martin (1998), and Van Devender et al. (2000) provided general descriptions of the vegetation in the Río Mayo Region, especially near Alamos. The only quantitative studies of the vegetation were by Krizman (1972) and Martínez-Y. et al. (2000). Friedman (1996) studied the flora and vegetation of the coastal thornscrub on the coastal plain of the Gulf of California west of Alamos. Felger's (2001) Trees of Sonora is general but includes all of the TDF trees.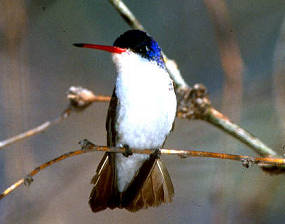 Violet-crowned hummingbird. Photo: K. Krebbs
Bogert and Oliver (1945) and Schwalbe and Lowe (2000) provided lists of the amphibians and reptiles in the Alamos area. Russell and Monson's (1998) Birds of Sonora included all of the TDF birds, while Russell (2000) provided species lists and analyses of the TDF avifauna in the Alamos area. Van Devender, Krebbs et al. (2005) studied the hummingbird communities along MEX 16 in the Yécora area. Caire's (1978) doctoral dissertation on the mammals of Sonora provided general coverage for the state while Schwalbe and Lowe (2000) provided a list of the mammals potentially living in TDF near Alamos.
Research Opportunities - Flora
Although Howard Gentry's botanical explorations were published in his 1942 Río Mayo Plants , many tropical biologists were unfamiliar with his pioneering work in Sonora. Only studies from the Universidad Nacional Autónoma de México (UNAM) research stations in Chamela in Jalisco and Los Tuxlas in Veracruz were presented in Seasonally Dry Tropical Forests (Bullock et al. 1995). Gentry's Río Mayo Plants (Martin et al. 1998) greatly expanded on Gentry's work.

Río Cuchujaqui. Photo: T.R. Van Devender
Some of the The richest, most diverse TDF in southern Sonora occurs in the Alamos area. The richest area sampled along the Río Cuchujaqui was at El Guayabo 8.7 miles (14 km) east of Alamos (Van Devender et al. 2000). The headwaters of the Río Cuchujaqui are east of Alamos on the Sonora-Chihuahua border in the western ridges of the Sierra Madre Occidental between Rancho Santa Bárbara, Sonora and Chínipas , Chihuahua. The lowland TDF flora along the river throughout the Cuchujaqui drainage basin east of El Guayabo promises to be equally or more diverse. Of special interest are areas where the emergent palo joso (Conzattia multiflora) and the upper forest stratum are better developed, and Arroyo Verde, the most tropical habitat in Sonora. From El Cajón at 1310 ft (400 m) elevation on the river up to 3940 ft (1,200 m) at Rancho Santa Bárbara, the full vegetation gradient from TDF through oak woodland to pine-oak forest is present. The pine-oak forest at Rancho Santa Bárbara is a southwestern extension of the Sierra Saguaribo-Sierra Charuco and the main Sierra Madre Occidental. Here, the pine-oak forest has eight species of oaks, five species of pines, two madrones, and Clethra mexicana, Ilex rubra, and Magnolia pacifica. The flora of the area east of Alamos probably contains at least 1,000-1,200 species.
Alamos is a day's drive from the United States border. In Tucson, Arizona, there are excellent resources including a major herbarium, vertebrate and invertebrate collections, and a science library at the University of Arizona. There are many individuals with knowledge and experience in the biota and cultures of tropical Sonora in Arizona. The herbarium, library, and faculty of the Universidad de Sonora in Hermosillo are about five hours from Alamos by car. The extensive tropical studies in the Chamela biological station in Jalisco were recently summarized in Historia Natural de Chamela (Noguera et al. 2002). Southern Sonora provides an exciting opportunity to expand these studies into TDF near the northern limits of the Neotropics in northwestern Mexico.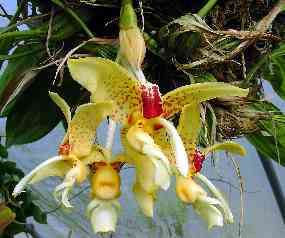 Stanhopea maculata. Photo: Mark Dimmitt
The research opportunities in southern Sonora are almost unlimited. Plant inventories have only begun, and were mostly not focused on local areas or distinct habitats. Botanical research topics include plants in special taxonomic groups (orchids, bromeliads, Agavaceae, palms, etc.), life forms (vines, epiphytes, succulents, aquatics, etc.), habitats (cliff faces/steep slopes, deep canyons, seasonal pools in the river, acidic soils on volcanic gossans, etc), vegetation types (various types of TDF, oak woodland, pine-oak forest, riparian corridors with guásima [Guazuma ulmifolia], palms [Brahea aculeata, B. dulcis, Sabal uresana], sabino [Taxodium distichum mexicanum], tampicerán [Platymiscium trifoliolatum]), etc, as well as ecological processes (productivity, phenology, community structure, climate, seasonality, hydrological/habitat cycles in the river, etc.).
Research Opportunities - Fauna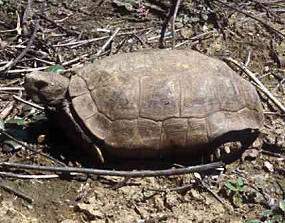 Photo: Mark Dimmitt
The opportunities for in depth studies are just as great for the animals. The tropical fauna is mostly intact except for a few likely extirpated birds and the Mexican wolf (Canis lupus baileyi). The advent of the .22 rifle and its inexpensive ammunition has resulted in the near-extirpation of wildlife in much of Mexico; this has not happened in southern Sonora. Jaguars (Panthera onca) are still seen on occasion, and camera stations show ocelots to be common . As in the plants, research opportunities on distribution, community structure, behavior, diet, predation, pollination, parasitism, the roles of herbivores and detritivores in carbon cycling, etc. abound for all of the vertebrate and invertebrate groups. Bury et al. (2000) discussed desert tortoise (Gopherus agassizii) populations living in tropical habitats in southern Sonora and northern Sinaloa. Today they mostly live in desertscrub habitats from California and Nevada south to Sonora. Studying tortoises near Alamos will give insight into how their early Tertiary ancestors lived (Van Devender 2002). Studies of the invertebrates will be especially productive in range extensions, new species, etc. considering how little is known about them.
Conservation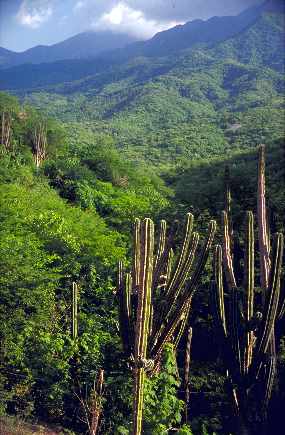 Unlike many areas in Mexico, the opportunities for conservation and research in rural Sonora are good because of favorable demographic trends. Cattle ranching is the most important activity in rural areas in southern Sonora, with relatively few areas away from the coastal plain developed for agriculture. Large tracts of TDF are intact; only local areas have been cleared and converted to buffelgrass (Pennisetum ciliare) pastures. Although the TDF has been grazed for a long time, the recovery potential is high in most areas. In general, people are leaving rural areas as the grazing industry declines, young men seek work in cities or the United States , and education programs and churches in urban areas attract women and children away from remote ranches . In most other tropical areas in central and southern Mexico, rapid population growth is increasing natural resource use, and natural habitats are shrinking or gone. In Sinaloa, TDF is now restricted to a narrow strip of usually steep terrain on the western base of the Sierra Madre Occidental, and virtually the entire coastal plain has been converted to commercial agriculture.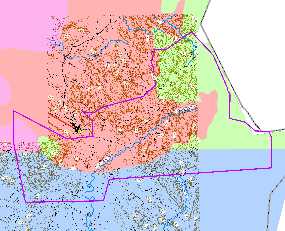 La Reserva Para Protectión de Flora y Fauna – Sierra de Alamos, Río Cuchujaqui was established by President Ernesto Zedillo in 1997. It covers about 100,000 hectares (nearly 400 sq. mi.) and spans from the Sierra de Alamos across much of the Río Cuchujaqui drainage to the edge of the Sierra Madre Occidental at Rancho Santa Bárbara. Of this large area only the Sierra de Alamos itself is federally owned and thus easily protected. Most of the rest is private ranch land. There is an urgent need for conservation of the unique Sonoran TDF through private ownership of lands that are dedicated for conservation. Although the tropical biota of southern Sonora is known to have many unusual species at their northern limits, only comprehensive inventories will identify those rare species that are worthy of protection as Threatened or Endangered species by the Mexican government, and management and restoration efforts.
Additional Resources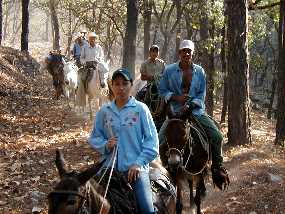 Photo: Martín G. Figueroa
Alamos provides the full range of services needed to support studies of tropical and Madrean communities, including skilled and knowledgeable local guides, pack animals, and cooks. There are a number of hotels with accommodations ranging from inexpensive to luxurious as well as good restaurants. Cars arrive from MEX 15 at Navojoa 50 km to the west by paved road. Bus service is regular and reliable, including direct buses to Hermosillo, Nogales, Tucson, and Phoenix. The international airport at Cd. Obregón is only 70 miles (115 km) away. Telephone and internet connections are available .
This website provides a broad range of resources (much of it also in Spanish) including summaries and images of the vegetation, flora, and fauna, a bibliography, a cross-referenced database of scientific, English, and Spanish Sonoran plant names (a similar animal database is under development). A GIS base map covering much of southern Sonora is available from the Desert Museum.
Summary of Resources and Opportunities
• Entire transect from coastal thornscrub to pine-oak forest is accessible from Alamos
• Northern TDF structure is different than taller TDF to the south. The emergent vegetation layer is nearly absent.
• Northern TDF has different phenology than southern TDF
• Wildlife populations are healthy in Sonora
• The upper Río Cuchujaqui is a vibrant, undammed, seasonally variable riparian habitat.
• Hotels, restaurants, internet, and transportation connections are available in Alamos
• Guides, pack animals, and cooks are available for hire
• Academic resources are available in Tucson and Hermosillo
• Plant nomenclature database with local Spanish names facilitates communication with local residents who know the flora
• Bibliography of published literature for the Alamos area available
• GIS base map available
• Many of the resources are available at this website. .