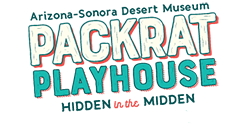 Packrat Playhouse Special Program Booking Calendar
To reserve spots for a Packrat Playhouse Special Program, please select the number of children for an available date, complete the form, and submit your non-refundable payment.
During Packrat Programs, kids will enjoy a 30 minute activity led by our Education staff followed by 30 minutes of exclusive playtime before we open the Playhouse to the public! Developmentally appropriate activities will be focused on science, art, languages, music, and movement.
2 to 5 Year Olds: Fridays 9:00 - 10:00 a.m.
6 to 12 Year Olds: Saturdays 9:00 - 10:00 a.m.
Full program schedule and descriptions
Sign-Up/Pay for a Program
(Infants/ 1 year olds can accompany their parents but will not be charged.)